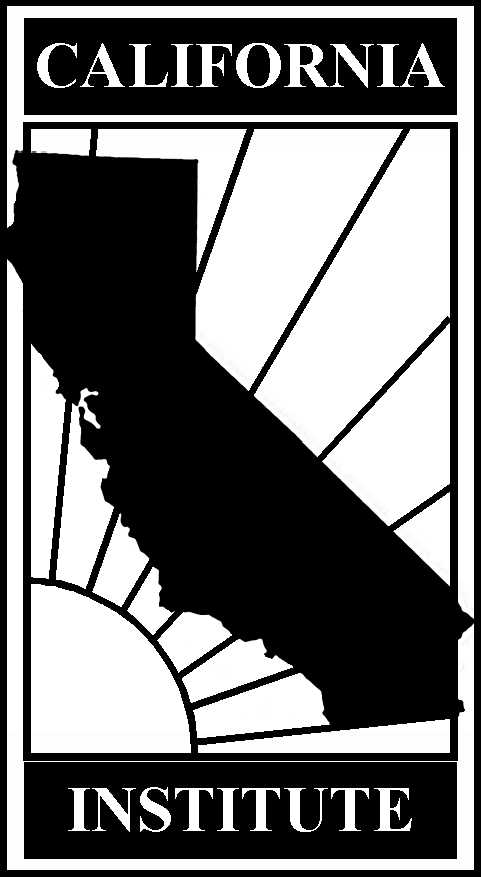 The California Institute for Federal Policy Research
419 New Jersey Avenue, SE, Washington, D.C. 20003
voice: 202-546-3700 fax: 202-546-2390 [email protected] http://www.calinst.org

California Capitol Hill Bulletin

Volume 9, Bulletin 26 — September 26, 2002 [or see pdf version] [or jump to the previous bulletin]
---
CONTENTS OF THIS ISSUE
Congress Set to Pass Continuing Resolution To Keep Government Operating; Expected To Include Welfare Extension
House Transportation Reports Water Resources Bill
Judiciary Subcommittee Addresses Cyberspace Copyright Piracy
LA CouncilMember Lauded for Alameda Corridor Financing Innovations
State Enacts Sudden Oak Death Bill
State's CALFED Governance Bill Enacted
House Education Subcommittees Examines Foreign Student Tracking
Californians Mistrust of Government Eclipses Potential to Meet 21st Century Challenges
New Poverty Numbers Released By Census Bureau
FERC Judge Finds El Paso Withheld "Extremely Large Amounts" of Natural Gas During State's Power Crisis
Safety and Road Conditions Improve But Congestion Remains a Concern, According to Federal Highways and Transit Reports
---
To expand communications between Washington and California, the California Institute provides periodic faxed bulletins regarding current activity on Capitol Hill which directly impacts our state. Bulletins are published weekly during sessions of Congress, and occasionally during other periods. The e-mail edition is made possible in part by in kind donations from Sun Microsystems and IBM Corp.
---
Congress Set to Pass Continuing Resolution To Keep Government Operating; Expected To Include Welfare Extension
The House is set to pass its first continuing resolution to keep the government open past the October 1st start of Fiscal Year 2003. A vote to allow federal agencies to spend money at their FY02 levels through October 4th is expected late Thursday night. The Senate is expected to approve the measure as well.
The Continuing Resolution is also expected to extend the welfare reform law through December 31. The bill, enacted in 1996, is set to expire on September 30th. The extension would allow states to continue to receive federal funds at the FY02 level for cash assistance, child care, and other major programs under the law.
House Transportation Reports Water Resources Bill
The House Transportation favorably reported out a streamlined version of the Water Resources Development Act (WRDA) on Wednesday. The bill authorizes billions of dollars for Army Corps of Engineers projects for the next two years.
To get the bill out, however, the Committee agreed not to include in it several controversial issues. Among those is the question of how best to increase flood protection in the Sacramento area — by building the Auburn Dam or raising the height of the Folsom Dam. Rep. John Doolittle (Rocklin) has long been a champion of building a new dam at Auburn, arguing that it would be cheaper and more effective. Rep. Robert Matsui (Sacramento), on the other hand, argues that raising the Folsom Dam by seven feet is the best way to protect the Sacramento area. Committee supporters of raising the Folsom Dam agreed not to push for an amendment on the issue in return for language in the bill to increase the authorization for levees.
Chairman Don Young (AK) stated that the House leadership has told him the bill can get House consideration before the 107th Congress adjourns. Amendments on Sacramento flood protection, as well as other issues concerning Army Corps contracting procedures, may come up at that time.
In the Senate, the Environment and Public Works Committee failed to reach an agreement on postponing controversial issues and the bill had to be pulled from the Committee's markup agenda.
Judiciary Subcommittee Addresses Cyberspace Copyright Piracy
The House Judiciary Subcommittee on Courts, the Internet and Intellectual Property held a hearing on H.R. 5211 on Thursday, September 26. The bill, authored by Rep. Howard Berman (Valley Village) would exempt copyright owners from liability for using technological "self-help" measures to disrupt and prevent the illegal distribution of their copyrighted works over a peer-to-peer (P2P) network. P2P networks, such as Morpheus and KaZaA, use a decentralized system that allows individuals to trade copyrighted works.
In his opening remarks, Congressman Berman allowed that there are many legitimate uses for P2P networks, but networks such as KaZaA intentionally design their software to facilitate piracy and that must be stopped. He added that he didn't believe his bill was a perfect solution and he will remain open to suggestions on improving it. Rep. Zoe Lofgren (San Jose) in her statement raised concerns that the bill may be overly broad and could end up disrupting traffic on the Internet, not just on P2P networks. Rep. Darrel Issa (Vista) urged the subcommittee to find the "least flawed" approach to curbing P2P piracy.
Among the witnesses were Hilary Rosen, Chairman and CEO, Recording Industry Association of America, and Gigi Sohn, President, Public Knowledge. Ms. Rosen testified in support of H.R. 5211 and outlined for the subcommittee the measures RIAA is taking to educate consumers on piracy, as well as their rights to use copyrighted works. Ms. Sohn's testimony focused on concerns about the potential harm that the bill might do to consumers. She condemned the piracy of copyrighted works, but favored a more narrowly written "targeted" measure that would ensure consumers are not subject to privacy invasion and denial of service attacks.
The hearing was intended to open the debate on preventing P2P piracy, and further action on the bill is not expected until the 108th Congress. The testimony of all the witnesses can be obtained through the Judiciary Committee's website at: http://www.house.gov/judiciary .
LA CouncilMember Lauded for Alameda Corridor Financing Innovations
On September 25th, 2002, the Senate Finance Committee and the Senate Environment and Public Works Committee held it's first joint hearing in an effort to establish better coordination across committee jurisdictions while building up to next year's reauthorization of the Transportation and Equity Act of the 21st Century's, TEA-21. The Committee was convened to review innovations in financing to enhance highways and transit funding beyond what is available in the Highway Trust Fund. Panelist Janice Hahn, Los Angeles City Councilmember and Chair of the special-purpose Alameda Corridor Transportation Authority (ACTA), gave testimony on the success of the Alameda Corridor in Southern California and ways that the project was able to create public private partnerships and leverage federal dollars.
In her remarks, Councilmember Hahn gave an overview of the need and function of the 20-mile Alameda Corridor rail expressway and how it will improve the efficient transfer of $200 billion in cargo from the ports to the nation's highways thus improving global competitiveness while eliminating traffic conflicts. The Alameda Corridor's governing board, ACTA, served as an entity to establish broad based cooperation among various stakeholders to meet financing, construction and operational challenges. According to Councilmember Hahn, funds for the project came from multiple public and private sources including: 46% in ACTA-issued revenue bonds; 16% Federal sources; 16% from the ports of Los Angeles and Long Beach; 16% from California state and local grants; and 6% from other sources. Continued funding for the project's operation is secured by revenue collected on the containers themselves at $15 per 20-foot container. Ultimately, the $2.4 billion project was completed on April 15, 2002, on time and on budget resulting in dramatically increased container transportation efficiency, reduced railroad delays, added job opportunities for the local community, and reduced noise pollution. Container traffic on the corridor is expected to double over the next twenty years as global trade expands. ACTA is currently developing plans to build a truck expressway to increase the flow of the containers to Southern California markets and, according to Councilmember Hahn, this may be accomplished without any additional federal dollars. Chairman Jim Jeffords (VT) praised Ms. Hahn for her accomplishments in regard to the Alameda Corridor.
In considering the implications for TEA-21's reauthorization, Councilmember Hahn recommended the establishment of a public-private intermodal infrastructure development national policy as well as a specific funding catagory for such projects and federal action to expand bond financing security.
State Enacts Sudden Oak Death Bill
Governor Gray Davis signed a bill on Wednesday, September 25 to help state agencies fight the Sudden Oak Death disease that has been attacking several species of California's trees. The bill was authored by State Assemblyman Joe Nation (San Rafael). The bill sets up programs through the state's Department of Forestry and Fire Protection to remove or treat infected trees.
It also provides $2 million in state funds that will be supplemented by about $10 million in federal funds.
The disease has now been found not only in California tan oaks, but also in redwoods, firs, and other species along California's northern coast. See, Bulletin, Vol. 9, No. 23 (9/5/02).
State's CALFED Governance Bill Enacted
Governor Gray Davis signed the California Bay-Delta Authority Act on Monday, September 23. The bill establishes a governing authority for the CALFED restoration project within the state's Department of Resources.
Senator Jim Costa (Fresno) sponsored the bill. The governing authority will consist of six State and six Federal agencies (contingent on the federal government's decision to participate), seven public members, one Bay-Delta Public Advisory Committee member and four nonvoting members from the State legislature. The Bay-Delta Authority will hire a lead scientist and appoint an independent science board to advise the Authority.
Until now there has been no formal governing structure for the CALFED project. Instead, under their existing statutory authority, the agencies involved worked collaboratively with each other on an informal basis.
House Education Subcommittees Examines Foreign Student Tracking
The House Education and Workforce Subcommittees on 21st Century Competitiveness and Select Education held a joint hearing on Tuesday, September 24 to examine the Immigration and Naturalization Service's progress in implementing a system to monitor foreign students studying in the United States. Last week, the House Judiciary Subcommittee on Immigration and Claims also head an oversight hearing on the issue. See, Bulletin, Vol. 9, No. 25 (9/19/02).
Glenn Fine, Inspector General of the Department of Justice, Janis Sposato, INS, and a representative from the American Council on Education testified before the Education subcommittees as they had last week. Ms. Sposato again detailed the progress INS has made in implementing the Student Exchange and Visitor Information System (SEVIS), and Mr. Fine raised concerns that despite INS's progress the system would not be fully operational by the January 2003 deadline imposed by Congress.
In addition to these witnesses, Stephen E. Edson of the State Department's Bureau of Consular Affairs also testified. Mr. Edson testified that the State Department is working closely with INS to develop the links that will allow U.S. embassies and consulates around the world to first confirm the SEVIS records of student and exchange visitor visa applicants, and then inform the INS of every student and exchange visitor visa that is issued. He also outlined for the subcommittees the Interim Student and Exchange Authentication System (ISEAS), which State is currently using to provide electronic verification of student and exchange visitor visas until SEVIS is fully implemented.
The testimony of the witnesses can be obtained through the Committee's website at: http://edworkforce.house.gov/ .
Californians Mistrust of Government Eclipses Potential to Meet 21st Century Challenges
Leading California expert Mark Baldassare's new book shows that California's lack of confidence in government and elected officials continues as a major element of the state's culture. It dominates the political climate surrounding policy issues and diminishes the state's faith in resolving future challenges, such as demographic change, infrastructure improvements, and environmental concerns, according to Baldassare. The book was co-published by the University of California Press and the Public Policy Institute of California.
With discussions ranging from significance of the tax revolt of the 1970s to more recent electricity grievances shared by Californians, A California State of Mind: The Conflicted Voter in a Changing World used opinion polls, focus groups, surveys, policy preferences and ballot choices to portray the Golden State as the "un-party state," meaning that voters are increasingly attracted to independent registration and often have greater confidence in California's ballot initiative system than the traditional two party decision making structure.
Dr. Baldassare concludes with some recommendations on how governance can be improved. He suggests a reform-from-within approach where elected representatives and leading political figures would use resources and authority to improve responsiveness, efficiency and good faith. Some specific recommendations include improving election technology, encouraging voter registration, diversifying office-holders, putting greater focus on the initiative process, and rigorously pursuing campaign finance reform.
For more information on this publication visit the PPIC website at www.ppic.org
New Poverty Numbers Released By Census Bureau
The national poverty rate is on the rise for the first time in four years while average household income declined 2.2 percent, according to figures released on September 24 by the Census Bureau. A spokesperson for the Census Bureau's Housing and Household Economic Statistics Division said that trends in the two reports parallel those from former recession periods. According to the two Census bureau reports, entitled Poverty in the United States: 2001 and Money Income in the United States: 2001, California joined only three other states that deviated from the national trend by seeing its poverty rate decline slightly compared to 1999-2000 figures. The Census Bureau could offer no concrete determination on the relationship of such a decline to the overall income gap, however.
After reaching an all time high in 1999-2000, the average household income fell $900 to $42,200 in the following year nationally. California's median figure in the same two year average was statistically unchanged.
Further, the report may signify what many economists have speculated about California's strong tech sector protecting the state economy. The report shows California's poverty level between 1999 and 2001 declining by a slight 0.7 percent from 13.1 percent to 12.6 percent. On the other hand, the state remains over a full percentage point above the national average of 11.6 percent and ranked as the twelfth highest poor state when poverty rates are averaged over the three year period between 1999 and 2001, according to the reports.
Child poverty continues to be the most prevalent form of neediness in the US, remaining constant from last year's figures at 16.3 percent. This is still substantially lower than the recorded highs of the early nineties, however. Children are 36 percent of the official poor while representing 26 percent of the population, according to Daniel H Weinberg of the Census Bureau. A study conducted earlier this summer by the New York based National Center for Children in Poverty (NCCP) in conjunction with Children Now in Oakland, California, concluded that the number of California's poor children doubled in the last twenty years while the majority of California's poor children now live in working families. The study conducted by the NCCP was cited as "respectable" by Mr. Weinberg.
Further, for the fifth year in a row, the average earnings of full time women increased; while those of full time men stayed the same. Consequently, the female-to-male earning gap narrowed by 0.2 cents to 0.76 female dollars for every male-earned dollar. Other results show that poverty rates increased for Whites and non-Hispanic Whites, while it remained the same for other racial groups. Hispanic and Black poverty rates were 21.9 percent and 22.9 percent respectively over a three year average, while the rates for Whites and non-Hispanic Whites are 9.7 percent and 7.6 percent respectively, according to the poverty report.
FERC Judge Finds El Paso Withheld "Extremely Large Amounts" of Natural Gas During State's Power Crisis
On Monday, September 24, 2002, a Federal Energy Regulatory Commission judge issued a finding that El Paso Corp., "in a clear exercise of market power," illegally gamed California's natural gas market during the state's energy crisis. FERC Administrative Law Judge Curtis Wagner Jr. found that El Paso "withheld extremely large amounts of capacity that could have flowed to its California delivery points." The transactions took place between November 2000 and March 2001. The ruling states, "the record in this case now demonstrates an exercise of market power by El Paso Pipeline."
The ruling agreed with a complaint by the California Public Utilities Commission which had accused El Paso of reducing deliveries to the state in order to inflate prices. California officials estimate that El Paso's action cost the state between $3 billion and $4 billion in excess energy costs. California is seeking $9 billion in refunds for excess rates charged by various participants in the state's electricity market.
The ruling found that the company "substantially tightened the supply of gas" from at least one fifth of its pipelines at the California border, stating that "In reality, El Paso Pipeline only delivered 79% of its certificated design capacity" during the California crisis.
The ruling found "El Paso Pipeline failed to schedule all of the capacity that it posted, and that El Paso Pipeline failed to post all of the capacity that it had available." It noted FERC rules that state, "A pipeline is not permitted to withhold capacity if it receives requests for service that it can fulfill. In other words, if a pipeline receives requests for capacity." If FERC follows Judge Wagner's recommendations, penalty procedures against El Paso and its subsidiaries would be the next step.
El Paso is the nation's largest natural gas company, and its pipeline carries about 60 percent of the gas that reaches the California market. Wagner concluded the El Paso withheld at least 345 million cubic feet per day of natural gas, an amount sufficient to serve 1.5 million California homes. The company shut down stations for routine maintenance while demand and prices soared, and it failed to detail sources of gas available elsewhere on the system
In a statement, Senator Dianne Feinstein called the finding "a tremendous victory" and said she would press for a hearing on the matter in the Senate Committee on Energy and Natural Resources. FERC is expected to review Wagner's findings later this year.
Judge Wagner's preliminary decision is available on the FERC website in Adobe Acrobat (pdf) format at http://www.ferc.gov/RP00-241-006-09-23-02.pdf .
In a separate but related development on Tuesday, September 25, 2002, electricity marketer Dynegy admitted that several employees had furnished false information to publications that report natural gas indexes which in turn are used to set prices. A year ago, a FERC report described difficulties in conducting an investigation into natural gas prices due to questions regarding those gas price indices.
Safety and Road Conditions Improve But Congestion Remains a Concern, According to Federal Highways and Transit Reports
On September 26th, 2002, the House Transportation and Infrastructure Subcommittee on Highways and Transit chaired by Rep. Tom Petri (WI) held a hearing to review the status of the nation's highways and transit system in terms of current and future capital and maintenance needs. This is the fifteenth hearing conducted by the subcommittee on matters concerning the impending reauthorization of the nation's surface transportation law TEA-21 (PL 105-178). The Subcommittee heard testimony from experts on the content of two reports, one published by the current Highway and Transit Administration offices, the other by Congress' non-partisan investigations bureau, the General Accounting Office (GAO).
In her testimony, Mary Peters, Administrator of the Federal Highway Administration (FHA) stated that highway investments by all levels of government have increased dramatically since the inception of TEA-21 in 1998. Total highways spending increased 25 percent between 1997 and 2000 (currently total annual investments are at $64.6 billion), while the states' share of highway capital outlays rose above 60 percent for the first time in over forty years. Since TEA-21, states' investment in systems preservation and maintenance far outpaced that of system expansion resulting in improved road quality while highway safety has also improved, according to the report. Notwithstanding these improvements, the Conditions and Performance report confirms that operational performance of the nation's highways continues to decline due to intensifying congested conditions on roads that result in increased trip durations. Administrator Peters presented two separate funding scenarios for the future. Should Congress consider "improving" highways and bridges, the annual cost from all sources is projected at $106.9 billion annually over the next twenty years (a 65% increase over current levels), while the cost of "maintaining" is projected at $75.9 billion annually from 2001-2020 (a 17.5% increase). Robert Jamison of the Federal Transit Administration noted that total transit capital had more than doubled from $4.5 billion to $9.1 billion in the last ten years and that the state and local share of these costs and transit ridership had also climbed dramatically.
GAO analyst Kate Siggerud confirmed advancements in road conditions and safety over the last ten years. On the other hand, commute delays and congestion are still a growing challenge and traffic increases are expected to have the greatest negative effect on interstate conditions. Ms. Siggerud recommended improving congestion by enhancing lane capacity, improving lane management, and undertaking operational improvements.
Subcommittee member James Oberstar (MN) expressed concern about what he thought was an unjustified skepticism about mass transit. Although he acknowledged the importance of highways, he referred to certain highway construction projects as "congestion sink holes." Congressman Oberstar announced the emergence of what he calls a "transit renaissance in America" using examples of advances in San Jose and Los Angeles as support. Mr. Oberstar referred to the Alameda corridor and the expansion of Los Angeles Metrolink services as transit successes. He noted that there were 9.5 billion transit trips in 2000, increasing by 1 million riders per day in 2001. Furthermore, the percentage increase in transit ridership over the last ten years (22%) significantly outpaced vehicle miles traveled (14%) and population growth (4%). California Rep. Juanita Millender-McDonald (Carson) committed herself to addressing congestion reduction as a priority. "Our nation's highways are not conducive for a good quality of life" she said. She went on to invite Chairman Petri to take a trip with her on the 710 Freeway during rush hour.
For more information on this hearing please visit the House Transportation and Infrastructure website at www.house.gov/transportation/ .
Click here to return to the California Institute home page. Or click here to
e-mail.