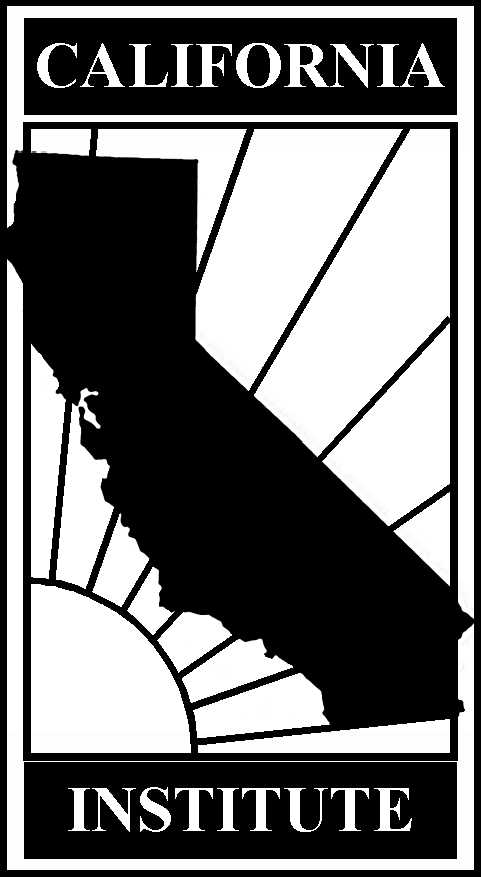 The California Institute for Federal Policy Research
419 New Jersey Avenue, SE, Washington, D.C. 20003
voice: 202-546-3700 fax: 202-546-2390 [email protected] http://www.calinst.org

California Capitol Hill Bulletin

Volume 9, Bulletin 1 — January 24, 2002 [or see pdf version]

---
CONTENTS OF THIS ISSUE
Administration Eases MTOPS Levels
Governor's Budget Includes Over $500 million for CALFED
President's Budget Expected To Seek Food Stamps For Legal Immigrants
Turning Point for Hunters Point
California's Population Leapt Upward from 2000 to 2001
One-Fourth of HMO Medicare Enrollees are Californians, Per Kaiser Family Foundation Resource
Latest PPIC Survey Finds Growing Optimism Among Californians
Pacific Council on International Policy Releases Reports Regarding Southern California's Global Position
Independent Advisory Group Releases US-Mexico Border Region Recommendations
UC Mental Health Policy Symposium Webcast Available
California Institute FY02 Appropriations Analyses Posted
---
To expand communications between Washington and California, the California Institute provides periodic faxed bulletins regarding current activity on Capitol Hill which directly impacts our state. Bulletins are published weekly during sessions of Congress, and occasionally during other periods. The e-mail edition is made possible in part by in kind donations from Sun Microsystems and IBM Corp.
---
Administration Eases MTOPS Levels
The Administration announced on January 3, that it was reducing U.S. export restrictions on high-performance computers (HPCs) to what are known as "Tier 3" countries. These include Russia, China, India, Israel, and Pakistan.
Currently, the upper limit allowed for a general export license is 85,000 MTOPS (millions of theoretical operations per second). That level, however, is now commonly available in computers. The new threshold will be set at 190,000 MTOPS for Tier 3 countries. U.S. information technology companies would prefer to eliminate the MTOPS standard altogether, arguing that it does not accurately reflect the performance level of computers. The Senate Export Administration Act reauthorization, which is pending Senate floor action, contains language eliminating the use of MTOPS as the standard for determining export restrictions on HPCs. See, Bulletin, Vol. 8, No. 10, (3/22/01).
Under the new standard, U.S. companies will still be required to obtain individual export licenses, after government review, on HPCs with performance levels over 190,000 MTOPS. HPC exports to such "rogue" nations as Iraq, Iran, Libya, North Korea, and Cuba will continue to be virtually banned.
Governor's Budget Includes More Than $500 million for CALFED
The 2002-03 state budget released by Governor Gray Davis on January 10 calls for a total of $519.3 million in state funding for the CALFED Bay-Delta restoration project. The funding will be allocated among the general fund ($58.9 million), bond funds ($417 million) and miscellaneous accounts ($43.4 million).
The following activities are proposed to be financed:
– $207.5 million for ecosystem restoration programs and projects;
– $103.4 million for surface and groundwater storage;
– $47.8 million for Delta conveyance projects;
– $36.2 million for drinking water quality projects; and
– $124.4 million for water use efficiency, the environmental water account, science, water transfers, watershed management, and Delta levees.
Including this proposed level, the state's contribution to the project total over $1.5 billion since 1999.
President's Budget Expected To Seek Food Stamps For Legal Immigrants
When the President submits his FY03 budget to Congress on February 4, it is expected to contain a request to restore food stamp benefits to hundreds of thousands of legal immigrants.
In the 1996 welfare reform act, Congress virtually eliminated food stamp benefits for over 800,000 legal immigrants. Then, in 1998, it restored benefits for about 200,000 legal immigrant children, elderly, and disabled. Under the current law, other legal immigrants must prove a ten year work record in the United States for eligibility. This requirement has left about 600,000 legal immigrants ineligible for food stamp benefits.
The President's proposal is expected to seek eligibility for legal immigrants who have resided in the United States for five years, and to eliminate the work requirement. The proposal is expected to restore benefits to about 363,000 legal immigrants and cost $2.1 billion over ten years.
Action to restore benefits would have to be included in congressional legislation.
Turning Point for Hunters Point
In a ceremony hosted by Rep. Nancy Pelosi (San Francisco), San Francisco Mayor Willie L. Brown, Jr. and Secretary of the Navy Gordon England signed a Conveyance Implementation Plan that lays out what is expected to be the final terms for cleanup, revitalization, and transferral of ownership of the Hunters Point Naval Shipyard. Hunters Point, a deactivated shipyard and former naval base, is a primarily low-income neighborhood with a reputation as San Francisco's worst polluted toxic waste site. The discovery of low level radiation from heavy metals, pesticides and polychlorinated biphonyls (PCBs) left over from shipyard activities earned Hunters Point a place on the Environmental Protection Agency's (EPA) 1989 National Priorities List (NPL) as one of the nation's worst contaminated sites.
After the passage of the 1991 Base Closure and Realignment Act (BRAC), the shipyard was finally closed in 1994 and ordered by Congress to be cleaned up and transferred to San Francisco for municipal reuse and local economic stimulation. "The Navy's business is not land management." said Secretary England, eager to put Hunters Point back in civilian hands; although settlements signed by his predecessors over Hunter's Point fate had failed. The last Memorandum Of Agreement (MOA) was signed and approved by the City and the Navy in November, 2000; but, to date, a schedule for clean up of the property has not been approved, since no satisfactory agreement was ever observed or implemented by all the stakeholders. "That agreement was inoperative." said Mayor Brown, "We never had the cooperation of the other players: when you have the will and the action, you will have a reaction."
Long-running disputes between the Navy, community residents, environmentalists, and the City over the shipyard had stalled progress attracting the attention of Congresswoman Pelosi and Senators Boxer and Feinstein, all of whom attended and commented at the ceremony congratulating those involved in the agreement. Senator Feinstein, Appropriations Military Construction Subcommittee Chair, last year secured over $50 million dollars for Hunters Point cleanup in the FY 2002 Military Construction appropriation bill and approved language that required the Department of Defense to produce a Hunters Point clean up Master Plan consisting of a schedule, cost estimates, legal obligations, and community commitments. Total clean up is estimated at about $500 million and there is still no exact time-line established, according to a Navy spokesperson.
Mayor Brown's redevelopment plan seeks to transform the 936-acre site into a new mixed-use economy neighborhood, with over 1,400 much needed residential units and opportunities for the development of light industry, film, construction, bio-science, and offices and retail. Developers expect a cost of $35 million just to preassemble the infrastructure for building-construction on the site.
The San Francisco County Board of Supervisors is required to ratify the MOA within 30 days for it to go into effect.
California's Population Leapt Upward from 2000 to 2001
According to U.S. Census Bureau figures released in late December, California accounted for 20% of the nation's population growth between the April 2000 decennial census and a July 2001 re-figuring, gaining 629,000 residents and bringing the state total to 34.5 million.
California's percentage increase over the period was 1.9%, compared to a national average growth of 1.2%, and the state ranked as the ninth fastest growing in the country. Among the 50 states, Nevada grew the fastest, at 5.4%, while North Dakota was at the other end of the spectrum, declining by 1.2%. In total numbers California's growth was the largest in the nation, followed by Texas, which saw an increase of 473,000 residents, and Florida, where population rose by 414,000 persons.
The report found that California again saw "net domestic outmigration," meaning that more existing residents moved from California to other states than did residents of other states move into California (a total net loss of 88,000 people). A total of 27 states saw outmigration over the period. This domestic outmigration from California was far more than made up for by foreign inmigration (from other countries) of 344,000 people, as well as a very large rate of "natural increase" (births exceeding deaths) of 374,000.
In total domestic migration losses, California ranked third, after New York (250,000) and Illinois (110,000). Large domestic population gainers included Florida (237,000), Arizona (93,000), Georgia (78,000), Texas (75,000), and Nevada (70,000).
Census also provided a 12-month estimate, for the period from July 1, 2000 to July 1, 2001. The Bureau found that California grew from 34.0 million to 34.5 million over the year. For more information, visit http://www.census.gov .
One-Fourth of HMO Medicare Enrollees are Californians, Per Kaiser Family Foundation Resource
The Kaiser Family Foundation has announced the 2001 edition release of The Medicare Chart Book. This updated publication aims to improve understanding of the Medicare program, the people it serves, and the challenges it faces, by providing statistics, charts and background information on Medicare-related topics. The Chart Book is organized into six separate sections covering: beneficiaries; spending and utilization; supplemental insurance and out-of-pocket expenses; the Medicare+Choice program; prescription drugs; and program financing. Among the collection of tables in the appendices of the Chart Book, is a breakdown of the Medicare population by state as well as a number of fact-sheet summaries for quick reference.
One Chart Book resource indicates that although the number of Medicare HMO enrollees declined between 1999 and 2001, last year California remained a state with among the highest concentrations of nationwide Medicare HMO beneficiaries (26%), declaring Medicare+Choice as a prominent alternative to traditional Medicare services in California.
A copy of the Chart Book can be ordered by calling (800) 656-4533. The Henry J. Kaiser Family Foundation is a non-profit independent national health care philanthropy dedicated to providing information and analysis on health issues. The Foundation's website at http://www.kff.org contains further information on Medicare research and analysis.
Latest PPIC Survey Finds Growing Optimism Among Californians
The latest Public Policy Institute of California (PPIC) Statewide Survey notes greater optimism among Californians than at any time during the last year. Other results show continued overall approval ratings for Governor Davis of 52%. Respondents ranked K-12 education, electricity, jobs and the economy, and budget and taxes as the most pressing problems for the governor and the state legislature to tackle this year. Support for Governor Davis' activities regarding issues of terrorism and security (68%) and crime and punishment (52%) were greater than on budget and tax matters (42%).
With the California primary fast approaching, the survey findings also reveal strong support for Richard Riordan among likely Republican voters. Backing from Latino Californians, however, has diminished for the potential GOP gubernatorial candidate. Additionally, Riordan holds a slight edge over Gray Davis (41% to 37%) among all likely voters.
In reaction to security concerns, Californians are more likely to be fearful of civil liberty infringements than to desire anti-terrorist government action, while eighty-two percent of respondents approve of mandatory identity cards to track immigrants.
Finally, internet use and computer access among Californians is at its highest recorded level, according to the survey. The digital divide, nonetheless, remains a reality as the gap in computer use between Latinos and non-Hispanic whites has grown from an eight point margin last year to 13 points.
PPIC is a private, non-profit research organization. The Statewide Survey is intended to develop an in-depth profile of the social, economic, and political forces affecting California elections and public policy preferences. A copy of the survey can be downloaded from the PPIC website at http://www.ppic.org.
Pacific Council on International Policy Releases Reports Regarding Southern California's Global Position
The Pacific Council on International Policy has recently released three reports. The first, San Diego, Baja California and Globalization: Coming from Behind, by Richard Feinberg is the first in a series of reports from the Council's project, "Mapping the Local Implications of Globalization." Dr. Feinberg argues that San Diego remains much less export-oriented than other national regions. In contrast, he argues that Baja California is far more export oriented.
The second, Making the Most of Southern California's Global Engagement, by Gregory Treverton shows a regional economy that is becoming more globalized as its people become more international at a rate higher than most other areas of the country. The third, Widening the Winner's Circle From Global Trade in Southern California, was written by Manuel Pastor. It examines who benefits most from trade in Southern California, and concludes that "winners turn out to be mostly white and rich while strugglers are generally poor and minority."
Copies of the reports can be obtained through the Council's website at: http://www.pacificcouncil.org .
Independent Advisory Group Releases US-Mexico Border Region Recommendations
The Good Neighbor Environmental Board, an independent federal advisory group of cross-border environmental experts and stakeholders has released a new report of recommendations to the federal government. The Fifth Report of the Good Neighbor Environmental Board to the President and Congress of the United States asserts that federal commitment to environmental protection remains a priority to preserve the health of local communities along the border region.
The report outlines nine points to best care for the southern border's water supplies, air quality management, and hazardous waste flow control. These steps include more vigorous binational cooperation and planning; strategies for increased information collection and sharing; promotion of energy conservation and alternative sources of energy; direct assistance to local communities; emergency response equipment availability; and hazardous waste management education and training.
The Good Neighbor Environmental Board was created in 1992 to advise the President and Congress on environmental practices and infrastructure along the southern border of the United States. Board members include experts from California, Arizona, New Mexico, and Texas. For more information about the report contact Elaine Koerner, the Designated Federal Officer of the Board, at [email protected] .
UC Mental Health Policy Symposium Webcast Available
Designed to synthesize academic, legal, political, and medical perspectives, Coping with Mental Illness and Crafting Public Policy, a mental health symposium, was held earlier this month at UC Berkeley. It presented a multi-disciplinary program to explore, develop and communicate scholarship on mental illness. The symposium was intended to provide a greater understanding and to evaluate the status of care and treatment for the mentally ill. The day-long event convened four separate panels, consisting of scholars, psychologists, policy analysts, clients, and elected officials. They furnished insight on: the latest medical perspectives and mental health advances; the most efficacious types of treatment in promoting rehabilitation; mental health funding challenges and parity issues; as well as, how the mental health system serves children and families.
Assemblymember Helen Thompson, Assembly Health Committee Chairperson, and Steve Mayburg, Director of California's Department of Mental Health were among symposium panelists. The key note address was given by Dr. Guido Belsasso, a top Ministry of Health official from Mexico.
The symposium was sponsored by the UC Berkeley Institute of Governmental Studies and the Office of Continuing Medical Education at UC San Francisco, in conjunction with UCLA. The entire program was recorded as a webcast and is available for viewing at http://www.webcast.ucla.edu/webcast/mentalhealth/ .
California Institute FY02 Appropriations Analyses Posted
Since the most recent Bulletin publication, several new analyses of FY 2002 appropriations conference reports have been added to the California Institute website. These include reports on the Commerce-Justice-State bill (at http://www.calinst.org/pubs/cjs02c.htm ), the agriculture appropriations measure (at http://www.calinst.org/pubs/ag02c.htm ), and the bill funding the Departments of Labor, HHS, and Education (at http://www.calinst.org/pubs/lhe02c.htm ). In addition to these text versions of the bill, the pages provide links to printable Adobe Acrobat (pdf) files. In the very near future, we will post an analysis of the transportation bill, at http://www.calinst.org/pubs/trap02c.htm .
Click here to return to the California Institute home page. Or click here to
e-mail.