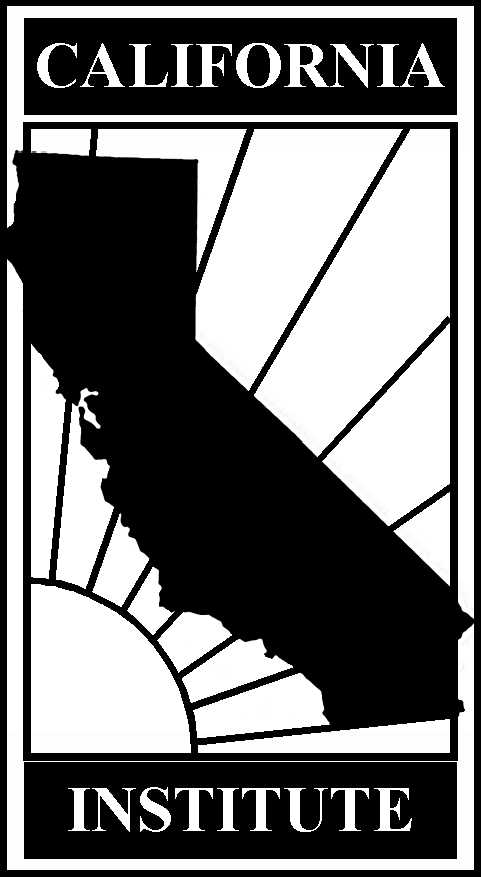 The California Institute for Federal Policy Research
419 New Jersey Avenue, SE, Washington, D.C. 20003
voice: 202-546-3700 fax: 202-546-2390 [email protected] http://www.calinst.org

California Capitol Hill Bulletin

Volume 8, Bulletin 32 — October 25, 2001 [or see pdf version]

---
CONTENTS OF THIS ISSUE
Fourth C.R. Runs Through November 16
Reps. Dreier and Berman Introduce Runaway Film Bill
Census Ups Illegal Immigrant Estimate
House Passes Economic Stimulus Package
Joint Strike Fighter Contract To Be Awarded Friday
PPIC Reports on Race, Ethnicity and California's Initiative Process
LAEDC Releases Film Industry Profile for Los Angeles County
U.S. Conference of Mayors Weighs In On Airport Security Legislation; Hahn Chairs Task Force
California Home Sales Declined in September, Prices Steady
California Institute Analysis of Interior Appropriations Conference Report
---
To expand communications between Washington and California, the California Institute provides periodic faxed bulletins regarding current activity on Capitol Hill which directly impacts our state. Bulletins are published weekly during sessions of Congress, and occasionally during other periods. The e-mail edition is made possible in part by in kind donations from Sun Microsystems and IBM Corp.
---
Fourth C.R. Runs Through November 16
By a 419-0 vote on Thursday, October 25, the House passed House Joint Resolution 40, a continuing resolution to maintain funding for federal government operations through November 16. The prior C.R. was set to expire on Wednesday, October 31. Congress has already completed action on two bills, funding the Department of the Interior and for military construction. The Treasury-Postal Service spending bill conference began on October 25, and a conference on the Energy and Water bill was expected to commence next week.
Reps. Dreier and Berman Introduce Runaway Film Bill
Reps. David Dreier (San Dimas) and Howard Berman (Valley Village) have introduced legislation to provide wage-based tax credits for film and television projects produced in the United States. The bill is intended to stop production companies from making feature and television movies in other countries that provide incentives and subsidies to the companies. Because of this "runaway production," thousands of American jobs in the film industry are being lost, especially among what are called "below-the-line" employees, such as production assistants, art directors, and truck drivers. On a related note, however, Canada recently announced that it will eliminate its tax-shelter financing incentive, which may encourage more American companies to produce their works in the United States.
The legislation would create a 25 percent wage tax credit paid to each employee on qualified U.S. productions, and is targeted to the segments of the market most affected by runaway productions, including television movies. It would include small businesses associated with film productions such as caterers.
Four other Californians joined Reps. Dreier and Berman in co-sponsoring the bill. They are: Reps. Bob Matsui (Sacramento), Xavier Becerra (Los Angeles), Mary Bono (Palm Springs), and Gary Condit (Ceres).
Census Ups Illegal Immigrant Estimate
Newly released figures from the Census Bureau indicate that the number of illegal immigrants in the United States has grown to at least 7 million and, perhaps, as high as 8 million.
The new Census figures are based on an early look at data on foreign-born populations that Census had not expected to examine until next year. However, it was trying to determine why it's estimate of the total U. S. population was some 6 million people less than the 2000 census indicated. In looking at that data, Census determined that the undocumented immigrant population was greater than previously thought.
The Immigration and Naturalization Service also recently revised its estimate of the illegal immigrant population to about 7.5 million.
Further information on the new data can be obtained from the Bureau's website at http://www.census.gov/dmd/www/ReportRec2.htm. The new estimate can be found in Report 1, Appendix A.
House Passes Economic Stimulus Package
On Wednesday, October 24, the House passed its $99.5 billion economic stimulus package by a vote of 216-214. The bill contains substantial new tax cuts and accelerates the cuts made in last year's tax bill. Among other things, it retroactively repeals the corporate alternative minimum tax, and accelerates the individual tax rate reduction to 25 percent beginning in tax year 2002. Currently, the 25 percent rate is scheduled to be phased in over the next five year.
The bill also would make $9 billion in surplus Federal unemployment funds available for cash benefit needs. States would be able to use this money for regular or extended unemployment benefits, as well as for worker training and services. The legislation also uses an existing block grant to channel $3 billion more to the states to provide health care coverage assistance for unemployed workers and their families. The bill also extends the Work Opportunity tax credit and the Welfare To Work tax credit for two more years.
California's Franchise Tax Board, the state's income tax agency, has predicted that the corporate tax provisions in the bill could cost the state up to $405 million in annual tax revenues.
An alternative measure offered by Democrats failed by a vote of 166-261. That $110 billion plan included more provisions aimed at providing breaks to low-income workers and would have expanded unemployment benefits. It would have also frozen the top marginal tax rate at 38.6 percent.
Joint Strike Fighter Contract To Be Awarded Friday
At 4:30 p.m. Eastern time on Friday, October 26, the Department of Defense is expected to announce whether Boeing or Lockheed Martin will win the competition to build the Joint Strike Fighter (JSF). The contract is valued immediately at $200 million, with orders from other countries expected to raise the take to more than $300 billion. Over the life of the program, some estimates have pegged the contract's ultimate value at $750 billion.
After Friday's downselect, and presuming adequate budgetary funding, observers expect that the Pentagon will order 3,000 of the jets, which will be used jointly by the Navy, Air Force and Marine Corps. The JSF is intended to serve the needs currently filled by the Air Force F-16 and A-10, the Navy F/A-18 and the Marine Corps AV-8B Harrier. It will also be used by Great Britain, which is expected to order 150 planes.
If victorious, Lockheed Martin reportedly would add up to 9,000 jobs in Ft. Worth, while Boeing has said it would split 8,000 new employees between Seattle and St. Louis. However, either company would subcontract significant amounts of work in other areas — 70% by some estimates — and California will surely win a large portion of that work. The state had previously pushed to have the JSF built in the Palmdale facility (Plant 42) which has been a pioneer in stealth technology and which studies indicate would save $2.2 billion compared to the costs at with the other two sites. In May 2000, Governor Gray Davis, Senators Dianne Feinstein and Barbara Boxer, and 50 members of the California Congressional Delegation had signed a letter asking that the Pentagon examine the cost-effectiveness of competing sites before selecting a location for production of the JSF.
PPIC Reports on Race, Ethnicity and California's Initiative Process
The Public Policy Institute of California recently released a report entitled Are There Winners and Losers? Race, Ethnicity, and California's Initiative Process. The study examines whether California's majority-driven initiative process puts nonwhite voters at a disadvantage. The study analyzes 45 statewide initiative votes between 1978 and 2000, finding that there is little evidence that nonwhite voters are consistently on the losing side. The study finds that white voters are on the winning side of initiatives 62% of the time, Asian American 60% and African American and Latinos 59%.
Researchers did find, however, that when race and ethnicity are a key part of an initiative, nonwhite voters fare poorly compared to whites. For example, on race and ethnicity focused issues, such as illegal immigration (Proposition 187), affirmative action (Prop 209), and bilingual education (Prop 229), whites voted for the winning side nearly 64% of the time while Latinos only 32%. Despite these disparities, in general most ethnic groups support the initiative process, as demonstrated in PPIC's statewide survey which found that Latinos, African American and Asian Americans are just as supportive of the process as whites.
To review this report in its entirety, visit the PPIC website at http://www.ppic.org .
LAEDC Releases Film Industry Profile for Los Angeles County
The Los Angeles County Economic Development Corporation recently released its Film Industry profile of Los Angeles County for 2001. The report outlines the difficulties the motion picture and television industry has had since 1999, including a string of bankruptcies in the theater business in 1999, a 25 week strike by the Screen Actors Guild and the American Federation of Radio and Television Artist in 2000, and the threat of two strikes in 2001.
Along with these issues, the film industry, according to the profile, faced and continues to face in 2001 other major issues such as runaway production, and a slowing economy that is curbing advertising spending and censorship. The profile examines the business indicators for the industry, including domestic box office numbers which had a slight increase of 2.8% in 2000 and has a forecasted total of $8.35 billion for 2001, a 9% increase. Other business indicators include employment, location production days, and firm size
Finally, the profile examines the economic impacts of the film industry on Los Angeles County, where it ranks as the fifth major industry on the basis of employment. The movie industry also has direct links to other industries, such as fourth ranked tourism and the seventh ranked apparel design/manufacturing industry. The profile goes on to give suggestions on what should be done to support this key local industry. For more information on the profile, please visit the LAEDC website at http://www.laedc.org .
U.S. Conference of Mayors Weighs In On Airport Security Legislation; Hahn Chairs Task Force
Led by Los Angeles Mayor James Hahn, the chair of the U.S. Conference of Mayors Task Force on Airport Security, large city mayors lobbied October 25 on Capitol Hill for legislation to address airport security concerns nationally. Hahn spoke at a press conference led by House Minority Leader Dick Gephardt, along with mayors from Fort Worth, St. Louis, and Philadelphia, encouraging support of an airport security bill similar to that passed unanimously in the Senate, requiring airport security screeners to be made federal workers (S1447). President Bush has endorsed HR 3150, an aviation security bill authored by Transportation and Infrastructure Committee Chairman Don Young (AK).
Hahn met with Republicans and Democrats to discuss airport security and to outline the mayors' position on the issue. They support legislation which includes: fully federalizing the workforce at points of passenger, baggage and cargo inspections; funding to airports to pay for increased security; complete screening of all carry-on and checked baggage and cargo; federal assistance and guarantees to ensure airport financial stability; airline workforce protection and affected business relief; support for airside improvements; continued airport modernization and improvement efforts related to security; airspace restrictions and heightened security on all general aviation and charter flights throughout the U.S.; and resuming full operation at National Airport as early as possible.
The House is expected to debate aviation security on Wednesday, October 31. See also, Bulletin, Vol. 8, No. 30 (10/11/01).
California Home Sales Declined in September, Prices Steady
According to data released on Thursday, October 25 by the California Association of Realtors, sales of existing homes in California in September fell 16.1% and the median home price rose 12.3% compared to the same period a year ago. Compared to August, the September figures represented a 16.8% decrease in volume and a 0.2% decrease in price. C.A.R. President Gary Thomas stated that, "The impact of a slowing economy is being felt primarily at the high-end of the market, especially in the Silicon Valley area, which has experienced the greatest run-up in prices over the past several years," while "Entry level home sales remain strong."
The median price of an existing, single-family detached home in California during September 2001 was $276,960. Leslie Appleton-Young, C.A.R.'s vice president and chief economist, noted that "The state's chronic shortage of affordable housing continued to drive the median price higher in September" relative to the same month in the prior year, though she added" Looking ahead, we're facing an uncertain time in the residential real estate marketplace. We expect to see the full impact of the Sept. 11 events in next month's sales and price report." The sales and escrow data represents closed escrow sales, and many of the late September closings were scheduled well before the terror attacks.
Regionally, September's total sales volumes were down in every market in the state when compared to the month prior, and all but Ventura and the high desert region were down from a year before. Only four regions saw price declines from the prior month, with Santa Clara County down 3.1% to $500,000; Orange County down 3.3% to $361,370; Santa Barbara County down 19.3% to $305,000; and the high desert down 0.7% to $114,960. Compared to September 2000, all markets saw price increases except Santa Clara, which was level at roughly $500,000.
Statewide, the 10 cities and communities with the greatest median home price increases in September 2001 compared to the same period a year ago were: Oakdale, 50.4 %; Watsonville, 47.8 %; Sanger, 45.2 %; Santee, 41.2 %; Placerville, 40.5 %; Patterson, 39.9 %; South Lake Tahoe, 37.6 %; Desert Hot Springs, 36.6 %; Pacific Grove, 35.8 %; and Lawndale, 35.2 %.
For more information, refer to the C.A.R. website, at http://www.car.org .
California Institute Analysis of Interior Appropriations Conference Report
On October 17, 2001, the House (by a vote of 380-28) and the Senate (by a vote of 95-3) approved the conference report for to accompany H.R. 2217, the FY 2002 Interior Appropriations Bill A California Institute analysis is online at http://www.calinst.org/pubs/int02c.htm , and a printable version in Adobe Acrobat (pdf) format is available at http://www.calinst.org/pubs/int02c.pdf .
Click here to return to the California Institute home page. Or click here to
e-mail.