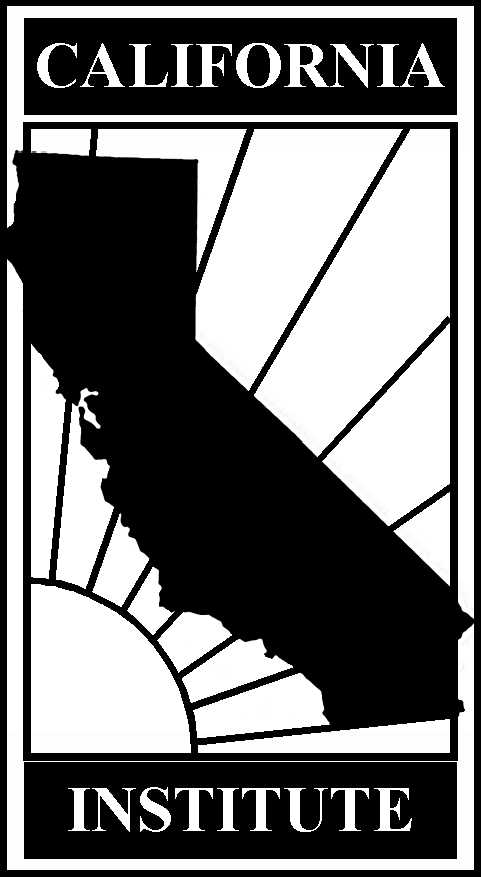 The California Institute for Federal Policy Research
419 New Jersey Avenue, SE, Washington, D.C. 20003
voice: 202-546-3700 fax: 202-546-2390 [email protected] http://www.calinst.org

California Capitol Hill Bulletin

Volume 8, Bulletin 28 — September 27, 2001 [or see pdf version]
---
C.R. Keeps Government Funded into FY 2002
Senate Environment Reports MTBE Bill
Senate Backs New Military Base Closure Round, House Does Not
Report Projects California's Could Lose $1.5 Billion in Formula Funds
Governor Calls Oct. 9 Special Session to Aid Southern Cal Edison
Assembly Panel Chair Briefs Californians in Washington on Electricity
Bill Introduced to Eliminate Social Security Offsets
PPIC – UC Irvine Release Orange County Survey
Semiconductor Stocks at Three-Year Low
Updated Institute Roster Lists District Numbers After Remap
---
To expand communications between Washington and California, the California Institute provides periodic faxed bulletins regarding current activity on Capitol Hill which directly impacts our state. Bulletins are published weekly during sessions of Congress, and occasionally during other periods. The e-mail edition is made possible in part by in kind donations from Sun Microsystems and IBM Corp.
---
C.R. Keeps Government Funded into FY 2002
Congress has not completed action on Appropriations measures for Fiscal Year 2002, which begins on Monday, October 1st, but funding for the federal government is not in question. This week, Congress cleared a continuing resolution (H J Res 65), which maintains the government in full operation through midnight on Tuesday, October 16. Negotiations regarding FY 2002 funding are ongoing.
Senate Environment Reports MTBE Bill
The Senate Environment and Public Works Committee favorably reported S. 950 on Tuesday, September 25 by voice vote. The bill was sponsored by Ranking Member Robert Smith (NH) and co-sponsored by Sen. Dianne Feinstein, among others. No amendments were added during the markup.
The bill allows a state to waive the oxygenate requirements imposed by the Clean Air Act, if its gasoline complies with all other requirements. It also requires the Environmental Protection Agency to ban the use of MTBE in motor fuel within fours years of enactment.
The California delegation and the Governor have strongly urged that the state be allowed to waive the oxygenate requirement on the grounds that California gasoline meets all emission control standards without using an oxygenate, such as MTBE. California has already acted to ban the use of MTBE in gasoline.
Prior to the markup, Governor Davis sent a letter to Committee Chairman Jim Jeffords (VT) and Sen. Smith commending them on bringing the bill up and urging its swift passage. The House delegation, led by Reps. Christopher Cox (Newport Beach) and Anna Eshoo (Atherton), also circulated a letter earlier this month urging the Senate to include an MTBE waiver in its energy bill. See, Bulletin, Vol. 8, No. 27 (9/13/01).
The House Wine Caucus, headed by Reps. George Radanovich (Mariposa), Mike Thompson (St. Helena), and Ken Calvert (Corona), are circulating a letter seeking co-sponsors for H.R. 2354. The bill will allow growers confronted with the task of replanting after a disaster to partially deduct from their taxes the capital costs associated with replanting. Currently, the IRS allows growers to deduct only pre-productive costs such as planting, weeding, training and mowing, but not the capital costs of plants, trellises, irrigation systems and land preparation and fumigation.
The bill is aimed at helping wine producers hit by Pierce's disease, but will also help citrus and berry growers as well. Members interested in co-sponsoring the bill should contact either Jolyn Murphy in Rep. Calvert's office (x51986) or John Carter in Rep. Thompson's office (x53311).
Senate Backs New Military Base Closure Round, House Does Not
By a vote of 53 to 47 on Tuesday, September 25, the Senate voted to create a Base Closure and Realignment Commission to shutter excess military facilities. The vote came as part of an authorization bill for the Department of Defense. The House version of the bill, also passed on that same day, included no base closure provision. The issue will be resolved in conference.
Both California Senators, Dianne Feinstein and Barbara Boxer, voted unsuccessfully to strip the base closure provisions from the bill. California was hit extremely hard by each of the last four base closure rounds, held in 1988, 1991, 1993 and 1995. While the state housed just 15% of the nation's military personnel when the closure rounds began in 1988, California shouldered 60% of the nation's net cuts in personnel during the course of those four closure rounds.
The Bush Administration has kept up pressure for base closures even in the wake of the September 11 attacks on the Pentagon and World Trade Center. A letter from Defense Secretary Donald Rumsfeld to Congress stated that the attacks indicated that it is "imperative to convert excess capacity into war-fighting ability."
The FY2002 appropriations bill for military construction (H.R. 2904), which passed the Senate on a 97-0 vote on Wednesday, September 26, also includes funding for activities pertaining to past base closure programs. The Senate version, shepherded by Subcommittee Chair Dianne Feinstein, includes $682 million for closure cleanup and related costs. The House version with which it will now be conferenced includes $553 million. Both figures are above the original Administration request of $532 million.
Report Projects California's Could Lose $1.5 Billion in Formula Funds
A report released last month by PricewaterhouseCoopers estimates that California stands to lose $1.5 billion in federal funding for formula grant programs over the coming decade if 2000 census figures are not adjusted to compensate for undercounting of populations.
There is has been an extensive and ongoing policy debate regarding whether to adjust census figures to compensate for undercounting or to instead rely solely on census headcounts. The Census Bureau acknowledges that it cannot count every person perfectly, and has attempted to approximate how many are undercounted via scientific sampling techniques via the Accuracy and Coverage Evaluation or ACE. A team of Census Bureau professionals – called the Executive Steering Committee for ACE Policy or ESCAP – was formed to evaluate whether using the ACE. to adjust the census figures would improve the results.
In March 2001, Secretary of Commerce Donald Evans decided to use only raw headcount data for allotting congressional districts and for redistricting. However, he left open until a later time the decision to whether to release sampled, or adjusted, data for use in allocating federal funds among the states. A wide array of federal grant programs use census data to allocate federal dollars which are distributed to state and local governments via Congressionally-devised formulas. Secretary Evans' decision regarding adjustment for formula usage may come in the next few weeks.
The PricewaterhouseCoopers report, entitled "Effect of Census 2000 Undercount on States and Selected Counties 2002-2012" and prepared by Dr. Eugene Ericksen at Temple University, focuses on eight programs (Medicaid, Foster Care, Rehabilitation Services, Child Care and Development Block Grant, Social Services Block Grant, Substance Abuse Block Grant, Adoption Assistance, and Vocational Education) with $145 billion of FY 2001 obligations, representing over 87 percent of the funding of major programs affected by the census undercount. California's actual impact would likely be somewhat higher; the report noted that "[b]ecause this study does not consider all programs affected by census population figures, the effect of the Census 2000 undercount on the allocation of federal funds is likely to exceed the estimates in this report."
The report states that "the Census 2000 undercount is estimated to cause the District of Columbia and 31 states adversely affected by the undercount to lose $4.1 billion in federal funding over the 2002-2012 fiscal year period." Nineteen states would gain funds due to undercounting in other states. The report's authors thus predict that California would shoulder more than one third of the nation's prospective losses. While the losses would begin in FY 2002, the major shortfall numbers would begin in 2003 (when California would lose $102 million) and grow through 2012 (when the annual loss would be $206 million).
On a positive note, the 2000 Census headcount appears to be considerably more accurate than its 1990 counterpart. While California's undercount rate was 2.7% in 1990, it was just 1.5% in 2000. Likewise, the national undercount rate improved from 1.6% in 1990 to 1.2% in 2000.
The PricewaterhouseCoopers report estimates that California was undercounted by 523,000 persons in the 2000 Census, an improvement over the 834,000 undercount in 1990. Nationwide, the 3.4 million undercount total for 2000 is an improvement over the 4 million figure from 1990. The report indicates that four states (California, Texas, New York, and Florida) account for nearly 40% of the nation's estimated undercount. California counties with undercount rates above the national average reportedly include Alameda, Fresno, Kern, Los Angeles, Orange, San Bernardino, San Diego, San Francisco, and San Joaquin.
The report estimates that California is tied with Vermont for having the fourth highest prospective funding loss per person due to undercounting, after Alaska, Hawaii, and New Mexico, with Texas close behind at number six. Over the decade, California is expected to lose $2,881 per undercounted individual in reduced formula grant funds.
To review the report, go to http://www.cmbp.gov or http://www.pwcglobal.com .
Governor Calls Oct. 9 Special Session to Aid Southern Cal Edison
On Thursday, September 27, Governor Gray Davis issued a proclamation reconvening the California State Legislature on October 9, 2001 for a special session in an effort to enact legislation to end the state's emergency role as a power buyer and keep the state's second largest utility solvent. Hit hard by excessive wholesale electricity costs over the past year which it could not recoup from ratepayers, Southern California Edison is hoping that economic assistance from the state will keep it from joining the state's largest electric utility company, PG&E, in bankruptcy. "This is a time of great economic uncertainty," Governor Davis said. "Another utility bankruptcy is not in anyone's interest."
Assembly Panel Chair Briefs Californians in Washington on Electricity
On Thursday, September 27, Assemblyman Roderick Wright, Chair of the Assembly Committee on Utilities and Commerce, briefed Congressional Members and staff and energy industry representatives at PG&E's offices in Washington. Assemblyman Wright, who represents the Los Angeles area, was in town for the annual meeting of the Congressional Black Caucus.
He commented that the economic downturn in the early 1990s, which was partly caused by federal cutbacks in defense production procurement and base closures, increased interest on the part of struggling utility companies in deregulating the industry. He also pointed to the Public Utility Regulatory Policy Act, which required utilities to buy power from cogeneration and renewable energy producers at high prices, also incented companies to exit the power generation business. He criticized AB 1890, the 1996 electricity deregulation plan, for requiring utilities to divest generating plants but not requiring the purchaser to sell the power back to the utility company.
Chairman Wright expressed concern about future prospects for California's electricity market, noting that the September 11th terror attacks helped to dry up even more of the capital markets, lessening prospects for bonds to help pay for electricity the state has already purchased.
Bill Introduced to Eliminate Social Security Offsets
Rep. Buck McKeon (Santa Clarita), joined by 18 other members of the California Delegation, has introduced legislation to eliminate Social Security benefit reductions that penalize California teachers.
Individuals covered by the California State Teachers' Retirement System (CalSTRS) do not have Social Security payroll taxes deducted from their wages. Under current law, at retirement, if they are also eligible for Social Security benefits, those benefits will be reduced if they receive a CalSTRS pension. The "Windfall Elimination Provision (WEP)" reduces the benefits of individuals who receive a CalSTRS pension and are also eligible for Social Security benefits based on other employment. The Social Security Spousal Offset" reduces the Social Security or disability benefits received by a spouse or widow who is also receiving his or her own pension from a public fund, such as CalSTRS, not coordinated with Social Security.
The California Retired Teachers Association strongly supports the bill.
PPIC – UC Irvine Release Orange County Survey
The Public Policy Institute of California (PPIC) in collaboration with the University of California, Irvine (UCI) released a special edition of the PPIC Statewide Survey in September. Entitled "Special Survey of Orange County", it was directed by Mark Baldassare, a Senior Fellow at PPIC and a former professor at UCI.
The Survey found that growth-related issues top the list of priorities cited by Orange County residents. Population growth and development (21%), the El Toro Airport controversy (14%), housing issues (13%), and traffic and transportation (12%) are mentioned most often. In a significant shift from last year, only 5 percent think crime – last year's top issue – is the county's most important problem.
According to the survey, all racial and ethnic groups tend to be negative about future population growth in the County. Sixty-five percent of residents believe that population increases will make the county a less desirable place to live in the future. Non-Hispanic whites are more likely (73%) than Latinos and Asians (48% each) to feel this way. Overall, residents are twice as likely to see population growth over the past decade as a bad thing (41%) rather than a good thing (22%). However, Latinos and Asians are less negative than non-Hispanic whites about growth.
The entire survey can be obtained through PPIC's website at: http://www.ppic.org.
Semiconductor Stocks at Three-Year Low
Previous forecasts for a rebound in the semiconductor industry later this year are dimming as semiconductor stocks continued to lose value. The Philadelphia Stock Exchange Semiconductor Index posted a three-year low on Thursday, September 27. Since September 11, the index has underperformed the NASDAQ by 20 percent, compared to its 20 percent superior performance prior to that.
The Index was down to 344.9 on Thursday, its lowest level since December 1998. Since the beginning of the year, it has lost 40 percent of value. Among the biggest losers on Thursday were National Semiconductor, down 12.9 percent, Intel, down 5 percent, and Xilinx off 6.9 percent.
Updated Institute Roster Lists District Numbers After Remap
Attached to this bulletin is a one-page roster listing California Congressional Delegation members and their office addresses, phones and faxes. The list shows each member's current district number and also shows the number of the district in which it is presumed that he or she will run in 2002. Detailed maps of the newly redrawn districts, which were approved by the Legislature and the Governor this month, are available on the web at http://www.assembly.ca.gov/whatsnew/erca1.htm .
The California Institute for Federal Policy Research
419 New Jersey Ave SE, Washington, DC 20003 202/546-3700 fax:202/546-2390 www.calinst.org
California Congressional Roster – 107th Congress, With 108th #s
("New District" is the Congressional District in which the member is expected to run in 2002. The new 21st and 39th Districts have no presumed incumbent.)
Old New Member Name Party Office Address Phone 202- Fax 202-
42 43 Joe Baca D 1133 Longworth 225-6161 225-8671
30 31 Xavier Becerra D 1119 Longworth 225-6235 225-2202
26 28 Howard Berman D 2330 Rayburn 225-4695
44 45 Mary Bono R 404 Cannon 225-5330 225-2961
43 44 Ken Calvert R 2201 Rayburn 225-1986
22 23 Lois Capps D 1118 Longworth 225-3601 225-5632
18 18 Gary Condit D 2234 Rayburn 225-6131 225-0819
47 48 Christopher Cox R 2402 Rayburn 225-5611 225-9177
51 50 Randy "Duke" Cunningham R 2350 Rayburn 225-5452 225-2558
49 53 Susan Davis D 1517 Longworth 225-2040 225-2948
20 20 Calvin Dooley D 1201 Longworth 225-3341 225-9308
4 4 John Doolittle R 2410 Rayburn 225-2511 225-5444
28 26 David Dreier R 237 Cannon 225-2305
14 14 Anna Eshoo D 205 Cannon 225-8104 225-8890
17 17 Sam Farr D 1221 Longworth 225-2861 225-6791
50 51 Bob Filner D 2463 Rayburn 225-8045 225-9073
23 24 Elton Gallegly R 2427 Rayburn 225-5811 225-1100
36 36 Jane Harman D 229 Cannon 225-8220 225-7290
2 2 Wally Herger R 2268 Rayburn 225-3076 225-1740
15 15 Mike Honda D 503 Cannon 225-2631 225-2699
38 retiring Steve Horn R 2331 Rayburn 225-6676 226-1012
52 52 Duncan Hunter R 2265 Rayburn 225-5672 225-0235
48 49 Darrell Issa R 1725 Longworth 225-3906 225-3303
12 12 Tom Lantos D 2217 Rayburn 225-3531
9 9 Barbara Lee D 426 Cannon 225-2661 225-9817
40 41 Jerry Lewis R 2112 Rayburn 225-5861 225-6498
16 16 Zoe Lofgren D 227 Cannon 225-3072 225-3336
5 5 Robert Matsui D 2308 Rayburn 225-7163 225-0566
25 25 Howard "Buck" McKeon R 2242 Rayburn 225-1956 226-0683
37 37 Juanita Millender-McDonald D 125 Cannon 225-7924 225-7926
41 42 Gary Miller R 1037 Longworth 225-3201 226-6962
7 7 George Miller D 2205 Rayburn 225-2095
34 38 Grace Napolitano D 1609 Longworth 225-5256 225-0027
3 3 Doug Ose R 215 Cannon 225-5716 226-1298
8 8 Nancy Pelosi D 2457 Rayburn 225-4965 225-8259
11 11 Richard Pombo R 2411 Rayburn 225-1947
19 19 George Radanovich R 123 Cannon 225-4540 225-3402
45 46 Dana Rohrabacher R 2338 Rayburn 225-2415 225-0145
33 34 Lucille Roybal-Allard D 2435 Rayburn 225-1766 226-0350
39 40 Ed Royce R 2202 Rayburn 225-4111 226-0335
46 47 Loretta Sanchez D 1230 Longworth 225-2965 225-5859
27 29 Adam Schiff D 437 Cannon 225-4176 225-5828
24 27 Brad Sherman D 1524 Longworth 225-5911 225-5879
31 32 Hilda Solis D 1641 Longworth 225-5464 225-5467
13 13 Pete Stark D 239 Cannon 225-5065 226-3805
10 10 Ellen Tauscher D 1122 Longworth 225-1880 225-5914
21 22 Bill Thomas R 2208 Rayburn 225-2915 225-8798
1 1 Mike Thompson D 119 Cannon 225-3311 225-4335
35 35 Maxine Waters D 2344 Rayburn 225-2201 225-7854
32 33 Diane Watson D 2413 Rayburn 225-7084 225-2422
29 30 Henry Waxman D 2204 Rayburn 225-3976 225-4099
6 6 Lynn Woolsey D 2263 Rayburn 225-5161 225-5163
Sen. Barbara Boxer D 112 Hart 224-3553 415-956-6701
Sen. Dianne Feinstein D 331 Hart 224-3841 228-3954
Click here to return to the California Institute home page. Or click here to
e-mail.