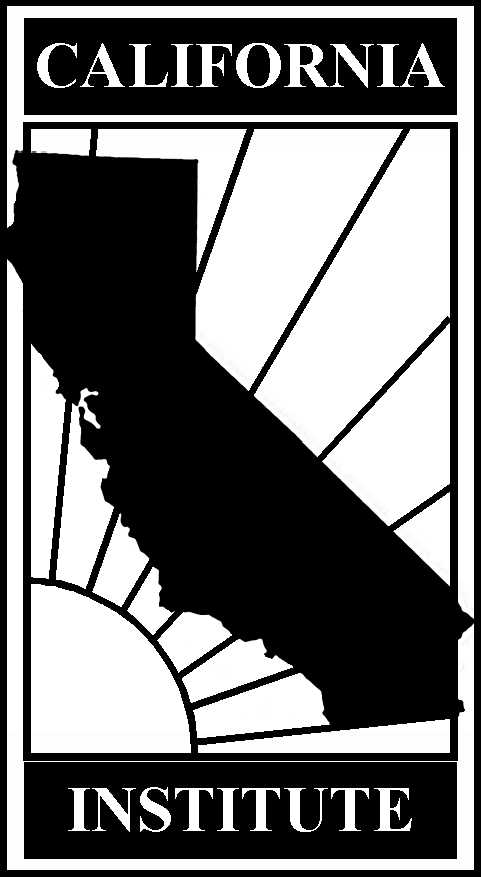 The California Institute for Federal Policy Research
voice: 202-546-3700 fax:202-223-2330 [email protected] http://www.calinst.org/
Home ~ New Articles ~ Subjects ~ Bulletins ~ Publications ~ Events ~ Formulas ~ Transportation ~ Defense/Bases ~ Search ~ CA Delegation ~ About Us ~ Our Supporters

California Capitol Hill Bulletin
Volume 13, Bulletin 18 — June 23, 2006 [or see pdf version] [or jump to the previous bulletin]
---
CONTENTS OF THIS ISSUE
Senate Judiciary Hears Testimony On The "Analog Hole"
PPIC To Unveil Major Port Security Report At Capitol Hill Luncheon Briefing on June 28
Ways & Means Examines Federal Tax Policy & U.S. Competitiveness
House Hearing Gives Voice to Critics of Homeland Security Grant Allocation Methodology
House Resources Approves Off-Shore Drilling Act; Californians' Bills Also Approved During Markup
Senate Judiciary Pursues Hearings On Immigration; House Schedules Summer Hearings
U.S. Supreme Court Upholds Deportation Of 20-Year Illegal Resident
Senate Hearings Continue on Voting Rights Act
Senate Appropriations Committee Adopts 302(b) Allocations, Setting Discretionary Spending Framework for FY 2007
Renewable Energy Touted at Capitol Hill Expo
Japan Agrees To Reopen Market To Imports of U.S. Beef
2006 California State Society Annual Picnic: Saturday, June 24 –11am to 4pm
---
To expand communications between Washington and California, the California Institute provides periodic bulletins regarding current activity on Capitol Hill that affects our state. Bulletins are published weekly during sessions of Congress, and occasionally during other periods.
---
Brian Bilbray Sworn In To Represent The State's 50th Congressional District
Senate Judiciary Hears Testimony On The "Analog Hole"
The Senate Judiciary Committee held a hearing on Wednesday, June 21, 2006, focusing on "The Analog Hole: Can Congress Protect Copyright and Promote Innovation?" The Committee heard from several witnesses: LeVar Burton, National Board Member, Directors Guild of America; Dan Glickman, Chairman and CEO, Motion Picture Association of America; Gary Shapiro, President and CEO, Consumer Electronics Association, and Chairman, Home Recording Rights Coalition; Chris Cookson, President, Warner Bros. Technical Operations Inc., Chief Technology Officer, Warner Bros. Entertainment Inc.; Matt Zinn, Senior Vice President, General Counsel, and Chief Privacy Officer, TiVo Inc.; and Gigi Sohn, President and Co-Founder, Public Knowledge.
The "analog hole" is a term used when digital content is converted to analog in order to view on analog television equipment, thus stripping the content of all its digital protections and leaving it vulnerable to being redigitized "in the clear" and redistributed.
Mr. Glickman testified that this is a significant loophole in the Digital Millennium Copyright Act. He joined Mr. Cookson in supporting legislation along the lines of H.R. 4569 introduced in the House. That bill provides for an analog rights signaling mechanism known as "CGMS-A plus Veil,"(Analog Copy Generation Management System (CGMS-A) coupled with the Veil Technologies Rights Assertion Mark).
Messrs. Zinn and Shapiro and Ms. Sohn, however, vigorously opposed a legislative solution. Mr. Zinn argued that the House bill "could severely inhibit the ability of innovators to create new products and impair the rights of consumers to use legitimately-acquired content in the manner to which they have become accustomed." Recognizing the seriousness of the piracy issue, he nevertheless argued that the studios have not shown any evidence that the analog hole is contributing to the piracy problem, or have suffered any monetary losses as a result of the sale of contraband copies of content made through analog-to-digital conversions.
During the question and answer period, the opposing witnesses could not even agree on what the House legislation would prohibit and what its impact would be, with proponents arguing that it would not inhibit law-abiding consumers from time-shifting or other convenient and acceptable uses of copyrighted content, while the opponents argued that the studios, in effect, wanted consumers to pay for each time they played a copyrighted work. After an extended exchange among the witnesses, Chairman Arlen Specter (PA) suggested that they should sit down and try to hash out a solution they can all live with, noting that he had hosted one such meeting earlier in the month and would be happy to do so again.
For the testimony of the witnesses, go to the Committee's website at: http://www/judiciary.senate.gov .
PPIC To Unveil Major Port Security Report At Capitol Hill Luncheon Briefing on June 28
On Wednesday, June 28, 2006, in Room B-369 of the Rayburn House Office Building, the Public Policy Institute of California (PPIC) and the California Institute for Federal Policy Research will host a luncheon briefing entitled "Protecting Our Ports – Are U.S. Security Measures Missing the Boat?" at which PPIC will unveil a major report on port security.
The new study of U.S. seaport security concludes that current policies and programs focused on securing the nation's ports against terrorist attack should focus more heavily on recovery and economic restoration. The report — published by PPIC and authored by a team of economists and maritime security experts — will provide one of the most comprehensive examinations of port security to date. It estimates the cost to the nation's economy of an attack on a seaport, evaluates security provisions established by the federal government after September 11, and recommends a number of important security measures.
The luncheon briefing will feature a presentation by the report's editors, PPIC program director Jon Haveman and research fellow Howard Shatz, as well as key California delegation members. Copies of the report, Protecting the Nation's Seaports: Balancing Security and Cost, will be distributed.
To attend this luncheon briefing, please reply (acceptances only, thank you) by leaving a message at 202-546-3700 or by emailing [email protected] . We look forward to seeing you on June 28.
Ways & Means Examines Federal Tax Policy & U.S. Competitiveness
On Thursday, June 22, 2006, the House Ways & Means Subcommittee on Select Revenue Measures held a hearing on the impact of international tax reform on U.S. competitiveness and to evaluate how this system can be reformed to enhance U.S. competitiveness abroad and stimulate job creation at home.
The Subcommittee heard from a number of witnesses, including Craig R. Barrett, Ph.D., Chairman of the Board, Intel Corporation. On the importance of the research and development tax credit, Dr. Barrett noted that even in 2001 and 2002, "during the sharpest downturn from a revenue standpoint in the history of the semiconductor industry, Intel nonetheless continued investing virtually the same amount in R&D (around $4 billion) as in the immediately preceding years, in order to ensure that new products would be ready when the downturn ended." He noted that the company spent over $4 billion on R&D in 2004 and that about 80% of Intel's R&D is usually performed in the U.S. He argued that a permanent tax credit is long overdue, and cited a recent Congressional Research Service study that identified inadequacies in the credit, and specifically noted its lack of permanence as a key detriment.
Dr. Barrett also testified that it costs $1 billion dollars more to build, equip, and operate a semiconductor factory in the U.S. than it does outside the U.S. He stated that the largest portion of this cost difference is attributable to taxes – specifically, the US 35% corporate tax rate, the lack of investment incentives, and the "relatively uneconomic and uncompetitive" depreciation treatment in U.S. tax code. Therefore, to improve U.S. competitiveness globally, he recommended: "a corporate rate reduction, an investment tax credit (ITC), full expensing of a factory in year one (or expensing plus a write-off of an additional percentage above and beyond the facility's cost), or a combination of these items. The solution could be broad-based or targeted (perhaps to capital-intensive industries, state-of-the-art technology, high growth potential, or some other criteria)."
For witness testimony, visit the Committee's website at: http://www.waysandmeans.house.gov .
House Hearing Gives Voice to Critics of Homeland Security Grant Allocation Methodology
On Wednesday, June 21, 2006, the House Committee on Homeland Security held a hearing regarding the distributional fairness of preparedness grants provided by the Department of Homeland Security (DHS). The hearing was bluntly titled, "DHS Preparedness Grants: Risk-Based or Guesswork?"
The hearing's lead-off witness, New York mayor Michael Bloomberg, commented that title, "certainly captures the sense of bafflement produced by DHS's recent allocation of Urban Area Security Initiative funds for Fiscal Year 2006." He commented that while it is hard to understand the DHS rationale for some funds distribution, "That's not because there has been any shortage of explanations from DHS; on the contrary, we've heard an abundance of them. But none has satisfactorily answered the question: 'How could a rational process produce such a dysfunctional conclusion?'"
Much of the debate over the UASI program has focused on the number of cities included in the program, and the amount of funds in it. In the first year of operation (2003), program funds were concentrated in just 7 cities nationwide, including Los Angeles and San Francisco. Since then, however, funding has been more dilute, with 50 cities receiving funds last year. Several cities, including Sacramento and San Diego, are targeted for UASI funding elimination after 2006.
In addition (and related) to the issue of the number of cities is the amount of funding provided each final recipient. Both New York and the District of Columbia are slated to receive approximately 40 percent less from UASI in 2006 as compared to the totals in 2005. Washington DC Mayor Anthony Williams provided similar testimony to that of Mayor Bloomberg.
Bloomberg's testimony also focused on language that prohibits funds from "supplanting" efforts already underway at state and local government levels. He complained that, despite the provisions best intentions, they served to penalize cities such as New York for having stepped out early to address the problems. He argued that, if NYC had been "negligent" and had not addressed the concerns, it would be eligible for more federal funding.
DHS Undersecretary George Foresman also testified, and he offered a challenge to regions that claim an ongoing stake in program funds. He said that "a safer and more secure America is not an exclusive mission of the Department of Homeland Security. … It is a mission that is shared among local, State and Federal agencies, the public and private sectors and the American people." He argued that the calculus of determining who gets what funds is very complicated, and, "Threat is not synonymous with risk, nor is risk analysis synonymous with risk management. He remembered the remarks of DHS Secretary Michael Chertoff, who said, "We cannot protect every single person at every moment in every place against every threat. What we have to do is manage the risk, and that means we have to evaluate consequence, vulnerability, and threat in order to determine what is the most cost-effective way of maximizing security."
Foresman outlined three principles regarding funding and the UASI program: "1) It is long-standing Administration policy that the limited pool of Federal grant resources should be primarily used to improve long-term capabilities that provide a maximum return on investment, instead of to finance day-to-day occurring local personnel operational costs. 2) The new DHS risk assessment process incorporates the tremendous increase in relevant individual risk of urban communities, this risk in relation to other communities, and the distribution of risk across our entire nation. And 3) In applying risk assessments to the grant process, DHS has emphasized the principle of risk reduction, including the peer-review assessment. This includes the likelihood that Federal resources can help reduce long-term risk and address short falls in capability. The new allocation formula, based on risk and effectiveness, strives to provide an objective process that is flexible to account for improved information on a national scale."
Asked by Subcommittee Chairman Chairman Dan Lungren (Folsom) for greater clarification of city eligibility criteria, Foresman replied that a number of potentially important factors were not part of the analysis. For example, Foresman noted that there were a number of dams in California that were not counted in the assessment, and he added that DHS did not consider proximity to an international border as it developed its criteria.
For additional information or for witness testimony, visit http://hsc.house.gov .
House Resources Approves Off-Shore Drilling Act; Californians' Bills Also Approved During Markup
On June 21, 2006, the House Resources Committee passed the Deep Ocean Energy Resources (DOER) Act by a vote of 29 to 9. The bill is designed to allow more energy resources to be produced in the deep seas on the outer-continental shelf (OCS) by giving coastal states the power to allow or prohibit off-shore oil and gas production up to 100 miles away from their coastlines. The bill would increase the revenue share for states that allow drilling off their coasts.
Resources Committee Chair Richard Pombo, a sponsor of the bill, said: "A quarter century of one-size-fits-all management bans have led to skyrocketing consumer prices and the loss of millions of American jobs. This policy was based on the false notion that energy production and environmental protection were mutually exclusive. The now universally-accepted truth is that we can, and must, have both."
Pombo sent a letter to Governor Arnold Schwarzenegger on June 20 urging him to "carefully consider [the bill's] benefits for the great State of California, now and for the future." Addressing the current executive and legislative moratoria that prevent drilling in federal waters off the coast of California, Pombo said: "Make no mistake, Governor. It is not a question of if the moratoria will disappear; it is a question of when." The Governors of Louisiana, Texas, Mississippi, and Alabama wrote a letter supporting the bill. Those states have always allowed offshore drilling.
The measure was approved during a markup session that addressed a lengthy agenda featuring more than two dozen bills. During the Committee's markup, the Resources Committee also approved H.R. 854, sponsored by Rep. Buck McKeon (Santa Clarita), which places certain lands in trust for the Utu Utu Gwaitu Paiute Tribe, and H.R. 2134, introduced by Rep. Xavier Becerra (Los Angeles), to establish the Commission to Study the Potential Creation of a National Museum of the American Latino Community to develop a plan of action for the establishment and maintenance of a National Museum of the American Latino Community in Washington, DC.
Senate Judiciary Pursues Hearings On Immigration; House Schedules Summer Hearings
The Senate Judiciary Committee, despite having passed a wide-ranging immigration bill last month, held a committee hearing on June 19, 2006, entitled "Immigration Enforcement at the Workplace: Learning from the Mistakes of 1986."
The Committee heard from numerous witnesses, including: Stewart Baker, Assistant Secretary for Policy, Department of Homeland Security; Julie Myers, Assistant Secretary for Immigration and Customs Enforcement; Martin Gerry, Deputy Commissioner for Income Security Programs, Social Security Programs, Social Security Administration; Richard Stana, Director of Homeland Security and Justice, Government Accountability Office (GAO); C. Stewart Verdery, Jr., Former Assistant Secretary of Homeland Security, Adjunct Fellow, Center for Strategic and International Studies; Cecilia Muñoz, Vice President, Office of Research, Advocacy and Legislation, National Council of La Raza; and Linda Dodd-Major, Former Director of Office of Business Liaison, Immigration and Naturalization Service.
The Administration witnesses stressed that workplace enforcement has become a priority of the Administration and Sec. Baker quoted President Bush: "A comprehensive reform bill must hold employers to account for the workers they hire. It is against the law to hire someone who is in the country illegally. Those are the laws of the United States of America, and they must be upheld." Nonetheless, the witnesses had to admit that Immigration and Customs Enforcement only has 90 employees in the country charged with enforcing current employer sanction laws.
Ms. Muñoz testified that it is critically important that worker verification provisions must be carefully crafted so that while being effective, they are not also used to discriminate against minority employees. While allowing that the Title III provisions of the Senate bill contain important worker protections, Ms. Muñoz called for further improve of the provisions to ensure that any new electronic employment verification system is "fundamentally workable and will not unnecessarily harm U.S. workers."
For the testimony of all the witnesses, go to the Committee's website at: http://www.judiciary.senate.gov .
In other news, the House this week announced that it will hold a series of hearings throughout the country during July and August on the provisions of the Senate-passed immigration reform bill before going to conference on the bill. In response, Senate Judiciary Chairman Arlen Specter announced that his committee will also hold field hearings on the bill during the summer.
U.S. Supreme Court Upholds Deportation Of 20-Year Illegal Resident
On June 22, the U.S. Supreme Court upheld the deportation of a Mexican man who had lived illegally in the United States for 20 years. The case revolved around the 1996 immigration law that streamlined the legal process for expelling aliens who have been deported at least once before and returned to the States. Humberto Fernandez-Vargas, the defendant in the case, had been deported several times in the 1970s and '80s and returned to the United States. The 1996 Illegal Immigration and Immigrant Responsibility Act revoked the right to appeal a removal order to an immigration judge.
Fernandez-Vargas was deported to Mexico in 2004. He argued that IIIRA did not apply to him because he last entered the United States more than a decade before Congress passed the statute. However, Justice David Souter, in his opinion for the 8-1 majority, wrote "Fernandez-Vargas continued to violate the law by remaining in this country day after day and … the United States was entitled to bring that continuing violation to an end."
Senate Hearings Continue on Voting Rights Act
On Wednesday, June 21, 2006, the Senate Judiciary Committee conducted the seventh in its series of hearings to consider the renewal of provisions of the Voting Rights Act. The most controversial of these provisions are Section 5, which requires that certain states with histories of voting discrimination practices receive "pre-clearance" from the Department of Justice (DOJ) before making any changes in their voting process, and Section 203, which requires that multilingual ballots be provided in jurisdictions with a significant minority language population. Wednesday's hearing was primarily focused on gathering policy perspectives from the field, particularly in regards to Section 5.
The witness panel consisted of Debo Adegbile, Associate Director of Litigation NAACP Legal Defense and Educational Fund, Inc., Gerald A. Reynolds, Chairman of the US Commission on Civil Rights, David Canon, Professor of Political Science at the University of Wisconsin, Madison, John J. Park, Jr. Assistant Attorney General of Alabama, Donald M. Wright, General Counsel for the North Carolina State Board of Elections, and Carol Swain, Professor of Political Science and Law at Vanderbilt University.
There was disagreement among the panelists on the necessity of Section 5 and whether it should be weakened or strengthened. Mr. Park from Alabama made the argument that the burden placed upon states to get approval from the DOJ for every minor change was unnecessary and overly taxing on the state's time and resources. He further argued that the baseline for determination of coverage should be updated from the years currently used (1964, 1968, or1972). Currently, any deviation from standards, practices, or procedures used in those years requires pre-clearance from the DOJ.
However, the testimony of Mr. Wright of North Carolina opposed this contention. He testified that the DOJ had created formatted paperwork that allowed for routine requests to be processed quickly and efficiently. He said that officials in North Carolina "don't consider it a burden and would encourage the renewal of Section 5."
There was also a division of opinion between the two academics on the panel. Both Prof. Cannon and Prof. Swain sought reauthorization of Section 5, but they disagreed on the kind of test to be used when determining what changes should be allowed in covered jurisdictions; essentially whether decisions should be based on a "totality of circumstances" or the "ability-to-elect". Another issue concerned whether the decreasing number of DOJ objections to requests indicated that covered jurisdictions no longer needed to be monitored or whether this result could be viewed as a deterrence effect of Section 5. Also debated was whether the renewal period of 25 years should be reduced.
While swift renewal of the Voting Right Act was predicted, controversy surrounding some of these temporary provisions has recently led the House to delay a vote that was expected on Wednesday. Further, according to press reports on Thursday, there is reportedly disagreement within Republican ranks over whether and how much to amend some aspects of the Act.
Witness testimony is available from the committee at http://judiciary.senate.gov/hearing.cfm?id=1955 .
Senate Appropriations Committee Adopts 302(b) Allocations, Setting Discretionary Spending Framework for FY 2007
On Thursday, June 22, 2006, the Senate Appropriations Committee adopted its 302(b) allocations for fiscal year 2007. The allocation scheme determines the allocation of discretionary funding that each Appropriations Subcommittee is able to spend from the upcoming fiscal year's total budgeted funding amount – $872 billion for FY 2007. (The House Committee had developed its discretionary spending framework more than a month earlier.)
The Senate allocation scheme proposes $414.5 billion for the Defense subcommittee (the panel with the largest discretionary budget), a $15.2 billion (3.8%) increase from the 2003 level but $9 billion less than President Bush had requested in February as part of his FY 2007 budget proposal to Congress.
For the second largest subcommittee in terms of total discretionary funding — the Labor-HHS-Education panel — the Senate Committee proposes $142.8 billion, which would be $1.6 billion (1.1%) more than in 2006 and $5 billion more than the President's request.
The allocations are detailed below:
| | | | | |
| --- | --- | --- | --- | --- |
| | | President's | | |
| Appropriations | Enacted | Request | | Senate |
| Subcommittees | FY 2006 | FY 2007 | FY 2007 | vs 2006 |
| | | | | |
| Agriculture | 18.432b | 17.416b | 18.200b | -1.3% |
| Commerce, Justice, Science | 49.438b | 49.633b | 51.000b | 3.2% |
| Defense | 399.308b | 423.554b | 414.500b | 3.8% |
| District of Columbia | 0.599b | 0.597b | 0.597b | -0.3% |
| Energy & Water | 30.164b | 29.472b | 30.731b | 1.9% |
| Homeland Security | 30.461b | 31.018b | 31.730b | 4.2% |
| Interior | 25.893b | 25.478b | 26.000b | 0.4% |
| Labor-HHS-Education | 141.200b | 137.798b | 142.800b | 1.1% |
| Legislative Branch | 3.765b | 4.225b | 3.980b | 5.7% |
| Military Construction & VA | 43.986b | 52.789b | 52.900b | 20.3% |
| State, Foreign Operations | 30.103b | 33.745b | 31.340b | 4.1% |
| Transpo-Treasury-Judiciary-HUD | 67.927b | 67.053b | 69.000b | 1.6% |
| TOTAL DISCRETIONARY | 841.276b | 872.778b | 872.778b | 3.7% |
The House approved its version of a 302(b) spending framework on May 4, 2006. The allocations were outlined in a prior edition of the Bulletin. See Bulletin, Vol. 13, No. 12 (5/19/2006) at http://www.calinst.org/bul2/b1314.htm#TOC1_3
It is important to note that the jurisdiction of the House and the Senate subcommittees do not match perfectly in every instance, and thus apples-to-apples comparisons of one subcommittee's total to the another's may at times be misleading. It is also important to note that these allocations affect only discretionary spending, and that mandatory (entitlement) spending is not affected by these self-imposed limitations.
Renewable Energy Touted at Capitol Hill Expo
At the June 20, 2006, 9th Annual Renewable Energy & Energy Efficiency Expo and Forum, hosted by the Sustainable Energy Coalition and the House and Senate Renewable Energy & Energy Efficiency Caucuses, critical energy issues — national security, consumer prices, global warming, and more – were taken on by three policy panels.
These panels featured industry leaders and distinguished speakers including Rich Halvey, manager of the Western Governors Association's Clean and Diversified Energy Initiative; Carol Werner, Executive Director of the Environmental and Energy Study Institute; and Dr. Michael MacCracken, chief scientist for the Climate Institute.
Many of the day's speakers and panelists called for an extension or expansion of the production tax credits created in the Energy Policy Act of 2005. An example noted by Sarah Verville, Vice President of the National Hydropower Association, pointed to credits provided to certain hydropower projects that expire in 2008. In order to claim the credit the project must be "placed-in-service" within a two-year window. In practice, however, large renewable energy projects need more time to plan, raise capital, navigate the licensing process, and complete the project.
Others advocated far more funding for research and development. Federal programs for both hydropower and geothermal research and development were zeroed out by the fiscal year 2007 Budget Request. The House has approved a $5 million funding level for geothermal development programs, down from $23 million in FY '06, but hydropower research to improve advanced turbine technology is set to be eliminated.
Throughout the day exhibits showcased industry leaders in renewable energy sources such as biofuels, combined heat and power, geothermal energy, hydropower, solar, wind, fuel cells and hydrogen technology. Many of these industries have projects or companies based in California. With 2,150 MW, California was the state with the most wind power capacity installed at the end of 2005. However, Texas has recently surpassed this mark.
California policies and strategies are at the forefront of fuel cell and hydrogen technology innovation. Fuel Cells 2000, a project of Breakthrough Technologies Institute, provides a state by state analysis of programs and incentives that specifically include hydrogen, fuel cells and zero emission vehicles. They also provide a searchable database of all the stationary fuel cell installations worldwide. You can find this material at http://www.fuelcells.org .
Rep. Mark Udall (CO) summed up the mood of the event when he quoted Thomas Friedman and said, "green is the new red, white, and blue."
Japan Agrees To Reopen Market To Imports of U.S. Beef
On Wednesday, June 21, 2006, Japan announced it would end its ban on U.S. beef, finally succumbing to continuing pressure from the Bush Administration and U.S. cattle interests. Japan banned U.S. beef in 2003 after a Canadian born calf with mad-cow disease was found in the United States. Two other cases of the disease have been found in U.S. animals this year.
Part of the deal to end the ban, however, gives Japanese officials the right to inspect U.S. plants. This requirement has left some operators upset, as they argue that it is the USDA's job, not Japan's, to regulate the industry. The Japanese inspectors are expected to complete the inspection by the end of July.
Before the ban on U.S. products was imposed, Japan imported about $1.4 billion in U.S. beef.
In 2006, there were 5.5 million head of cattle in California, ranking the state fourth in the nation among states — after Texas, Nebraska, and Kansas. However, a larger proportion of California's cattle are found in the dairy industry — the states of California and Wisconsin have the largest milk cow herds.
2006 California State Society Annual Picnic: Saturday, June 24 –11am to 4pm
This Saturday, June 24, 2006, will mark the California State Society Annual Picnic, which will be held in West Potomac Park, at Ohio Dr. & Independence Ave, SW, near the FDR Memorial and the shores of the Potomac River.
The event, held rain or shine (there is a tent!), attracts hundreds of California transplants in DC. The $10 cost of attendance also buys an annual CSS membership, which affords admission to many other CSS events through the year. To attend, send email: [email protected] or call: 202-543-9559. To attend, one must be a 2006 CSS member to attend, so you can sign up to be a member before the picnic on our website or simply sign up at the door. In addition, kids under 16 get in free as well. Wrist bands distributed at the entrance, so it is a good idea to bring ID.
The picnic will feature ample food and refreshments (including the popular "Taste of California", a volleyball tournament, kid and young adult games, a moonbounce, face painting & body art, live music, a charity raffle with many great prizes
SCHEDULE: The picnic begins at 11:00 am with the opening of registration. At 11:30, the "Taste of California" table opens, the moonbounce starts, and the volleyball tournament gets underway. At noon (and running through 3:00 pm), there will be live music by Ruthie and the Wranglers at the main stage, and face painting at the kids area. From 12:30 to 2:30, barbecue will be served. And then at 3:00 pm, the CSS raffle begins.
LOCATION: "West Potomac Park" — Ohio Dr. & Independence Ave., SW, Washington, DC. The site is near the FDR Memorial and the shores of the Potomac River, just west of the polo grounds across Independence Avenue to the south of the Lincoln Memorial.
METRO #1: Smithsonian (walk west towards the Washington Monument and go past it until you hit the river. It is approximately 1 mile to the picnic site.)
METRO #2: Arlington Cemetery (walk east across Memorial Bridge and turn right. It is approximately 1 mile to the picnic site.)
PARKING: There is limited three hour street parking on Ohio Drive, and parking lots are located beneath the 14th Street Bridge adjacent to the Potomac (a 15-20 minute walk to the picnic grounds).
VOLLEYBALL: For the Annual CSS Volleyball Tournament, leave a message for Shervin Boloorian at 202-719-8071 or call 202-905-9672.
---
To subscribe to the California Capitol Hill Bulletin, send an e-mail to [email protected] with "subscribe" as the subject. To remove your name from the mailing list, e-mail [email protected] with "unsubscribe" as the subject.
---
Click here to return to the California Institute home page. Or click here to send
e-mail.
To subscribe to the California Capitol Hill Bulletin, e-mail us your name, affiliation, and email address with the word "subscribe" in the subject line.