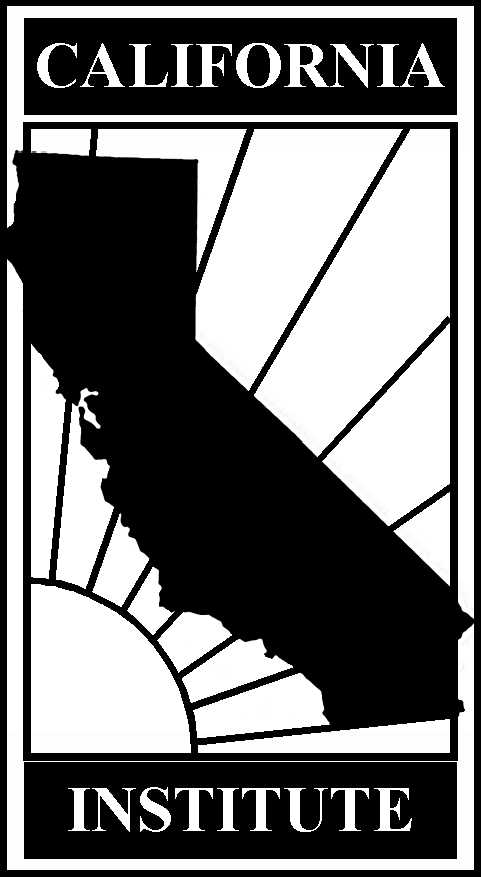 The California Institute for Federal Policy Research
voice: 202-546-3700 fax:202-223-2330 [email protected] http://www.calinst.org/
Home ~ New Articles ~ Subjects ~ Bulletins ~ Publications ~ Events ~ Formulas ~ Transportation ~ Defense/Bases ~ Search ~ CA Delegation ~ About Us ~ Our Supporters

California Capitol Hill Bulletin
Volume 13, Bulletin 17 — June 16, 2006 [or see pdf version] [or jump to the previous bulletin]
---
CONTENTS OF THIS ISSUE:
Brian Bilbray Sworn In To Represent The State's 50th Congressional District
Schwarzenegger Calls For Reimbursement For Illegal Immigration Costs
House Appropriations Subcommittee Approves SSJC Appropriations; SCAAP Would Receive $405 Million
Congress Clears Supplemental Appropriations; Includes Border Security, Levee Repair, Transportation, and C-17 Funding
House Passes Transportation-Treasury-HUD-Judiciary-D.C. Spending bill
Judiciary Subcommittee Examines Patent Troll Issue
With Sacramento and San Diego Downgraded, Californians Question Homeland Security's Criteria for Selecting UASI-Eligible Cities
Committee Hears Testimony On HUD's Mark-To-Market Program
House Resources Examines Offshore Leasing Issue
Calvert Subcommittee Debates NASA's Workforce Strategy
California Members Urge Federal Support For Space World At NASA Ames
Senate Judiciary Committee Continues Hearings on Voting Rights Acts
Capitol Hill Renewable Energy & Energy Efficiency Events on Tuesday
Appropriations Review: Energy & Water Analysis and Agriculture Analysis Available On CalInst Website
---
To expand communications between Washington and California, the California Institute provides periodic bulletins regarding current activity on Capitol Hill that affects our state. Bulletins are published weekly during sessions of Congress, and occasionally during other periods.
---
Brian Bilbray Sworn In To Represent The State's 50th Congressional District
             On Tuesday, June 13, 2003, former Rep. Brian Bilbray was sworn in as a returning Member of Congress representing part of San Diego. He was introduced by Rep. David Dreier (Covina), Chair of the California Republican Congressional Delegation. With Bilbray's return as a legislator, California returns to its full 53-member Congressional delegation strength, with 33 Democrats and 20 Republicans. Bilbray won a June 6 special election to fill the vacancy in the 50th Congressional district.
             At his swearing-in ceremony, Rep. Bilbray quipped, "For those who may not know, the 50th District is a classic California coastline district, very environmentally sensitive; and I am grateful today that they believe in recycling Congressmen."
             Rep. Bilbray begins with a seniority advantage over freshman and sophomore colleagues — having served as a Member of Congress from 1995 through 2000, Rep. Bilbray begins his post with six years of seniority already behind him.
             More information regarding the June 6 primary election is available in Bulletin, Vol. 13, No. 16 (6/9/2006) or from the California Secretary of State at http://vote.ss.ca.gov/ .
Schwarzenegger Calls For Reimbursement For Illegal Immigration Costs
             Governor Arnold Schwarzenegger joined Arizona Governor Janet Napolitano in a bipartisan call for the federal government to reimburse the states for the mounting costs of undocumented immigration. In their letter to the House and Senate leadership, the Governors note that they are actively working with the federal government to help secure the border region and their states' National Guard troops will be deployed along the border to ease the burden on the personnel and resources of the United States Border Patrol.
             Nevertheless, they argue the costs of illegal immigration to their states are mounting and it is time "the federal government should assume its responsibility for reimbursing states and local governments for the burden imposed by illegal immigration," including the costs of health care, state and local prisons and education.
             The letter goes on to point out that the State Legalization Impact Assistance Grants (SLIAG) program authorized in 1986 set a precedent for a statutory reimbursement on a temporary basis, and they applaud the inclusion of a similar provision in the current Senate immigration bill. However, they argue that rather than funnel the billions of dollars in fees envisioned under the Senate bill to the U.S. treasury, "it is our expectation that any monies collected in fees or fines associated with the process of legal immigration be appropriately provided to offset the tremendous financial burden placed on Border States."
             The letter is available on Governor Schwarzenegger's website at: http://www.governor.ca.gov .
House Appropriations Subcommittee Approves SSJC Appropriations; SCAAP Would Receive $405 Million
             The House Appropriations Subcommittee on Science-State-Justice-Commerce approved its FY 2007 appropriations bill on Wednesday, June 14, 2006 by voice vote, including $405 million for the State Criminal Alien Assistance Program, the same level as was enacted last year. California receives approximately 40 percent of federal SCAAP funding. In FY 2005, with about $300 million in funding, the state and its local governments received over $121 million.
              The $59.84 billion bill exceeds the President's $59.70 billion request and the FY06 funding of $57.21 billion. The Subcommittee refused to agree to the Administration's proposal to slash federal assistance to state and local law enforcement. Instead, the bill includes $2.6 billion total in such funding, more than doubling the $1.1 billion requested in the President's budget, but falling $163 million short of FY06 funding. In addition to the SCAAP funding, the bill provides $390 million for violence against women prevention and prosecution programs; $558 million for the Edward Byrne Justice Assistance Grants program; $281 million for juvenile delinquency prevention and accountability programs; $176 million to eliminate DNA analysis backlogs; $100 million for law enforcement technologies and interoperability; $99 million for meth hot spots; and $40 million to reduce gang violence.
             Under the bill, the National Aeronautics and Space Administration receives $16.7 billion, $462 million above the FY06 base level, but slightly less than the President's $16.8 billion request. That includes space exploration funding of $3.8 billion; the full funding request for the Space Shuttle; an additional $100 million above the President's request for aeronautics research; and $75 million above the request for space science. The National Science Foundation is provided $6 billion, the full amount requested as part of the American Competitive Initiative and an increase of $439 million above FY06. This includes $4.6 billion for research, $334.5 million above FY06; and $832.4 million for science education, $16.2 million above the request.
             The bill provides $3.4 billion for the National Oceanic Atmospheric Administration (NOAA), $289 million below the President's request. In a March letter, Governor Schwarzenegger had urged the Subcommittee to provide level funding, as well as additional funding for NOAA fisheries and an Integrated Ocean Observation System (IOOS) in California.
             SSJC was the last subcommittee to finish work on its appropriations bill. The full Appropriations Committee is expected to mark up the bill next week, and the House is on track to complete floor consideration of all appropriations bills before the July 4th Congressional recess. For additional information regarding this and other House spending bills, visit the Committee at http://appropritiations.house.gov , and for information regarding California aspects of past budget and appropriations measures, California Institute analyses are available at http://www.calinst.org/pubs.html#IssuePapers .
Congress Clears Supplemental Appropriations; Includes Border Security, Levee Repair, Transportation, and C-17 Funding
             The House voted 351-67 to approve the $94.5 billion War and Disaster Assistance Supplemental Appropriations on Monday, June 12, 2006, and the Senate followed with a vote of 98-1 on June 15, 2006, sending the bill to the President for signature.
             In addition to the war and disaster assistance funding, the conference report includes $1.9 billion for border security, including $708 million to pay for the deployment of National Guard troops along the Southwest border. The bill also provides for the hiring of 1000 new border agents, 4000 additional detention beds and various tactical and logistical support activities for the Secure Border Initiative. In addition, $20 million was included to increase judges and attorneys at the Department of Justice to process violations of immigration law.
              The conference report also includes $30.4 million for levee repairs in the Sacramento area, bringing total funding to over $69 million for this year. Of the new funding, $23.3 million is allocated for Sacramento River Bank Protection, and $7.1 million for South Sacramento County Streams.
             Transportation spending, according to Senator Dianne Feinstein, includes reimbursements of $309 million for the State of California for emergency work on federal roads and highways in the state, including: "$245 million — for storms in Santa Barbara, Orange, San Diego, Los Angeles, Ventura, San Bernardino, Riverside, and Kern Counties (December 2004); $9.3 million — for Flash Flood in Death Valley National Park and Inyo County ( August 15, 2004); $3.6 million — for San Simeon Earthquake Damage in San Luis Obispo County ( December 23, 2003); and $51.2 million — for storms in Del Norte, Mendocino, Trinity, Humboldt, Contra Costa, Marin, Alameda, Solano, Napa, San Mateo, and Santa Cruz Counties (December 2002)." See http://feinstein.senate.gov/06releases/r-supplement-final.htm .
              In addition, the appropriations measure includes $227.5 million for advance procurement of C-17s, the cargolifter aircraft built by Boeing in Long Beach that supports 6,500 California jobs. The additional funding is estimated to be sufficient to keep the production line operation through, and perhaps beyond 2008. The Pentagon had announced plans to terminate the program, and the bipartisan California Congressional delegation has partnered with state leaders to support the C-17 line.
             As requested by the President, $2.3 billion is also included for avian flu preparedness activities. For additional information regarding the supplemental, an overview is provided by the Committee at http://appropriations.house.gov/index.cfm?FuseAction=PressReleases.Detail&PressRelease_id=629&Month=6&Year=2006 .
House Passes Transportation-Treasury-HUD-Judiciary-D.C. Spending bill
             On Wednesday, June 14, 2006, by a vote of 406 to 22, the House passed the Transportation-Treasury-HUD-Judiciary-D.C. spending bill (H.R. 5576). Discretionary spending increased by $3.7 billion from fiscal 2006 to reach $67.8 billion, slightly more than the President requested. The total appropriation came in at $131.1 billion, an $8.5 billion increase from fiscal 2006.
             Amendments from the floor included a $214 million increase in Amtrak funding, a $100 million increase in funds for section 8 housing, and an additional $20 million for the public housing capital fund.
             An amendment barring enforcement of an administration policy recently created to tighten restrictions on agricultural trade with Cuba was offered by Rep. Jerry Moran (KS), and approved by a voice vote. However, an amendment offered by Rep. Barbara Lee (CA) to ease restrictions on student visits to Cuba was rejected.
             With a large margin, an amendment proposed by Rep. James Oberstar (MI) to prevent foreign control of U.S. airlines' business decisions was adopted 291-137. As a result, a Department of Transportation rule change, which was made to attract foreign investment to the struggling airline industry, would be delayed for at least a year. The White House strongly opposed this amendment and says that an aviation treaty with the European Union that would grant access for U.S. airlines to attractive routes through Heathrow Airport may now be in jeopardy.
             More information on this Appropriation bill can be found at http://appropriations.house.gov/ .
Judiciary Subcommittee Examines Patent Troll Issue
             The House Judiciary Subcommittee on Courts, the Internet, and Intellectual Property held another in its series of oversight hearings regarding patent reform at a session on June 15, 2006. This hearing focused on Patent Trolls: Fact or Fiction. The Committee heard from the following witnesses: Ed Reines Esq., Weil, Gotshal & Manges, LLP; Dean Kamen, President, DEKA Research & Development Corporation; Paul Misener, Vice President for Global Policy, Amazon.com; and Chuck Fish, Vice President & Chief Patent Counsel, Time Warner, Inc.
             There was general consensus that "patent trolls" do exist. Although defining the term exactly may be difficult, the witnesses agreed that in the most clear-cut case, a patent troll takes place when a company established by lawyers solely to buy a patent in a bankruptcy proceeding then promptly argues infringement to seek royalties that are thousands of times more than what was paid for that patent. Mr. Kamen cautioned, however, that care must be taken not to define the term so broadly as to include a company such as his, which licenses the use of its patents to manufacturing companies rather than undertaking the manufacture and marketing of the patented products itself.
             Mr. Fish also stressed that rather than trying to define one particular type of bad actor, the focus should be on all abusive behavior and the consequences of engaging in them.
             For the testimony of the witnesses, go to the House Judiciary Subcommittee's website, which is linked at: http://www.judidicary.house.gov .
With Sacramento and San Diego Downgraded, Californians Question Homeland Security's Criteria for Selecting UASI-Eligible Cities
             Led by Rep. Doris Matsui (Sacramento), a coalition of several California Members of Congress and both U.S. Senators are requesting that the U.S. Government Accountability Office (GAO) investigate how the Department of Homeland Security (DHS) decides what cities are eligible for a homeland security grant program focused on urban areas.
             Early this year, DHS announced that it would change the criteria for determining which cities are eligible for funding under the Urban Area Security Initiative (UASI) grant program. Due to the changes — which were not detailed reportedly due to security reasons — both Sacramento and San Diego may no longer eligible to apply. Joining Rep. Matsui in making the request, in addition to Sens. Feinstein and Boxer, were Reps. Bob Filner (San Diego), Mike Thompson (St. Helena), and Susan Davis (San Diego). Also signing the letter, which was sent to GAO on June 13, 2006, was the Homeland Security Committee's ranking Democrat Rep. Bennie Thompson (MS).
             In a statement, Rep. Matsui said, "Despite repeated attempts, DHS has refused to provide the information to explain how this decision was made. This is unacceptable. We have a responsibility to protect this nation to the best of our ability. And with limited resources we need to ensure accountability for the decisions that are being made. DHS has a responsibility to explain their actions."
             The request letter states that, "Sacramento is the capital of the most populous state in the nation and home to dozens of critical federal and state government buildings. In addition, much of the state's water, electricity, and telecommunication systems are managed from Sacramento. The San Diego area contains the nation's 7th-largest city adjacent to a heavily-trafficked international border, a busy port, tourist attractions, and major military installations."
             Specifically, members are inquiring whether DHS is using proper and relevant data, whether those data are being weighed properly, whether the "parameters of the eligible areas" are appropriate (such as whether there is a bias against urban areas where critical infrastructure is set outside a ten-mile buffer area), how
past grant performance influences future awards, whether there is sufficient local and private sector involvement in assessing and evaluating, whether unique aspects of major military installations are adequately considered (including risks to personnel), whether "the vulnerabilities and local law enforcement responsibilities associated with proximity to an international border" are considered, and whether the process accounts for "cascading societal and economic effects" of a terror attack.
             On June 7, Rep. Matsui had sought to amend the Homeland Security Appropriations measure to address the matter. However, in order for her proposed amendment to survive a point of order, Rep. Matsui reportedly would have needed to provide documentation of DHS's policy, which she said was unavailable because DHS has refused to provide the policy details to Members of Congress
             The letter is available at http://matsui.house.gov/Newsroom.asp .
Committee Hears Testimony On HUD's Mark-To-Market Program
             On Weds, June 14, 2006, the Senate's Banking, Housing, and Urban Affairs Subcommittee on Housing and Transportation held a hearing on the extension of the Department of Housing and Urban Development's (HUD) Mark-to-Market Program. The bill would extend the authority of the Secretary of Housing and Urban Development to restructure mortgages and rental assistance for certain assisted multifamily housing till the year 2011.
             In October, 1997, Congress passed the Multifamily Assisted Housing Reform and Affordability Act (MAHRA), a law designed to reduce the government's costs for multifamily assisted housing. Many assisted projects receive rents from HUD that are higher than the building's units could earn on the open market. By bringing above-market Section 8 rental rents in line with market levels, the Mark-To-Market program controls costs of the Section 8 program and maximizes the number of families that can be helped by such housing assistance.
             The witness panel included Mr. Ted Toon, Deputy Assistant Secretary at HUD's Office of Affordable Housing Preservation, Mr. Chris Foster, President of the National Housing Association, and Mr. Scott Kline, Vice President and Development Director of the National Housing Trust.
             Mr. Toon testified on the value and success of the Mark-To-Market program, calling it "a significant tool in HUD'S preservation toolbox." He stated to the committee that over the past nine years, HUD has successfully balanced the dual goals of this program of reducing long-term section 8 subsidies while preserving affordable housing. It's reported that this program has preserved 2,200 properties across the nation comprising over 188,000 affordable housing units. According to HUD figures, 159 of those properties, consisting of 10,708 units, were in California.
             For further information regarding this hearing, including witness testimony, visit the Senate Banking committee's website at http://banking.senate.gov/ .
House Resources Examines Offshore Leasing Issue
             The House Resources Committee held a hearing on June 14, 2006 on H.R. 4761, the "Domestic Energy Production through Offshore Exploration and Equitable Treatment of State Holdings Act of 2006." Among other provisions, the bill would allocate a greater share of revenue gained from future offshore energy leases to the coastal states.
             Ms. Johnnie Burton, Acting Assistant Secretary, Land and Minerals Management, U.S. Department of Interior testified before the Committee, as did witnesses from several states and ocean organizations. During the hearing Secretary Burton objected to the bill's allocation of offshore leasing revenue, citing the significant impacts on the federal budget. However, she did allow that the Administration would be willing to work with the Committee on the issue of allocating more revenue to the states.
             Committee Chairman Richard Pombo (Tracy) is expected to mark up legislation on offshore drilling with the next several weeks.
             Testimony of all the witnesses may be obtained from the House Resources Committee's website at: http://www.resources.house.gov .
Calvert Subcommittee Debates NASA's Workforce Strategy
             The House Subcommittee on Space and Aeronautics convened on Tuesday, June 13, 2006 to hear testimony on the topic of NASA workforce strategy and policies. Of central importance at this hearing was whether NASA is creating the correct approach to recruit and retain a workforce with the critical skills necessary to accomplish its goals in space and earth science, aeronautics, and exploration.
             Subcommittee Chairman Ken Calvert (Corona) said, "It is vital that NASA have access to the critical skills necessary to lead America and the world in the areas of space, aeronautics and science. There are hard fiscal realities facing NASA, but just as important and disconcerting are the hard technical realities of which the agency will be reliant on its workforce to manage."
             The witnesses presented conflicting views on this issue. Ms. Toni Dawsey, NASA Assistant Administrator for Human Capital Management, testified that the agency estimates that 800 full-time equivalent (FTE) staff are currently underemployed. NASA has been addressing this issue in part by offering early retirement and buy-out programs since 2004. Layoffs remain an option but Ms. Dawsey stated, "only as an action of last resort".
             NASA submitted a Workforce Strategy to Congress last April, as required by law, but that plan has come under some criticism. Other witnesses present at the hearing cited some of the strategy's shortcomings.
             Dr. David Black, President and Chief Executive Officer of Universities Space Research Association, advocated further review of which space systems will be developed by NASA and which ones will be contracted out, in order to better realize workforce needs. He stated, "The issues NASA faces in terms of workforce are national in character; they reverberate through other government agencies involved in space-related work, as well as the private sector including universities." He added, "NASA should not, in our Committee's view, try to structure a solution in isolation from consultation with the broader set of communities."
             Mr. John Douglass, President and Chief Executive Officer of Aerospace Industries Association of America, also was critical of NASA's Strategy, advocating a strategy for NASA which would include contracting out more of its work to the private sector, while preserving certain highly specialized skills. Douglass said, "As the forthcoming National Academies panel report will note, industry has the flexibility to move engineers and managers among programs depending on customer needs, a key advantage for NASA in a constrained budget environment." He then went on to say, "NASA, however, must preserve its traditional mission of conducting basic, laboratory-focused research in areas such as aerodynamics or propulsion that yield broad public benefits."
             D. Lee Stone, the representative for the largest union at NASA, the International Federation of Professional and Technical Engineers (IFTPE) was primarily concerned with the protection of the "broad technical excellence and independence of NASA's civil service workforce that has served the Agency well for decades."
             For further information, including witness testimony, on this hearing visit the committee's website at http://www.house.gov/science/ .
California Members Urge Federal Support For Space World At NASA Ames
             Rep. Anna Eshoo (Atherton) was joined by seven other Californians in calling for $1 million in federal funding in the Labor-HHS appropriations bill for Space World, a new, interactive learning center using the facilities at the NASA Ames Research Center. The other signatories to the letter to House appropriators are Reps. Dennis Cardoza (Atwater), Jane Harman (Venice), Mike Honda (San Jose), Zoe Lofgren (San Jose), Richard Pombo (Tracy), Pete Stark (Fremont), and Ellen Tauscher (Alamo).
             SpaceWorld will be a state-of-the-art, hands-on, interactive learning center that when complete will be a place for students to learn about science, math, technology and engineering – "the workforce skills essential to America's high-tech future," as the letter states. SpaceWorld, under a recently executed Space Act Agreement with NASA, will renovate two existing NASA buildings at Moffett Field to house an Experience Center and Mission Control. Moffett Field is located in Sunnyvale and Mountain View, in California's Silicon Valley. The estimated capital cost to begin operations is estimated at approximately $6 million, most of which will come from corporate sponsors.
             For additional information regarding plans for Space World, visit the Space World Foundation website at http://www.spaceworldfoundation.org/ .
Senate Judiciary Committee Continues Hearings on Voting Rights Acts
             On Tuesday, June 13, 2006, the Senate Judiciary Committee continued its series of hearings on the extension of certain provisions of the Voting Rights Act of 1965. This hearing investigated Section 203, a provision adopted in 1975 to ensure the right of language minorities to vote. Section 203 requires voting materials to be available in minority languages and for bilingual assistance to be made available in certain polling places. The jurisdictions covered by this provision are determined by the Census Bureau after each census based upon a formula set out in the Voting Rights Act.
             Mr. John Trasvina, the interim President and General Counsel for the Mexican American Legal Defense and Educational Fund (MALDEF) testified in support of the reauthorization of Section 203. Mr. Trasvina was General Counsel for the Senate Judiciary Subcommittee on the Constitution when the 1992 Voting Rights Act language amendments were passed. He reviewed the discriminatory practices that were in effect during the original passage of this section and cited significant ongoing discrimination on the basis of language and race as evidence that the provision should be reauthorized.
             Many opponents to Section 203 argue that because immigrants must speak English to become naturalized citizens, language assistance in voting is not needed. Mr. Trasvina countered this argument by testifying that the language requirement for naturalized citizens, roughly at a 5th grade level, does not ensure that new citizens would be able to effectively interpret an English-only ballot, which is roughly at a 10th-12th grade level.
             Senator Ted Kennedy (MA) emphasized the higher level of English proficiency required for voting by reading a sentence from an actual ballot initiative. During the course of the hearing other Senators admitted having difficulty understanding some ballot language. Senator Diane Feinstein (CA) commented that California ballots are often an arm's length long and extremely complicated. In support of Section 203, she stated that "democracy depends on an enlightened electorate".           Mr. Peter Kirasanow, appointed by President Bush as a member of the National Labor Relations Board, appeared in a personal capacity and submitted for consideration four issues which he stated were problematic for Section 203: (1) cost and waste; (2) fraud and error; (3) racial/ethnic profiling in coverage and enforcement; and (4) constitutional compliance.
             Mr. Mauro Mujica, Chairman of the Board for U.S. English, Inc, testified that Section 203 is sending the wrong message, namely that English is optional. Furthermore, because of the levels needed to trigger this provision, most of the government translations are in Spanish and therefore send this 'English is optional' message primarily to Spanish speakers.
             Ms. Linda Chavez, President of the Center for Equal Opportunity, and a political analyst for FOX News, testified in opposition to the renewal of Section 203. Ms. Chavez argued that Section 203 is contributing to the balkanization of our country; by printing ballots in foreign languages the Federal government is discouraging people from mastering English. She contends that this, "devalues citizenship for those who have mastered English as part of the naturalization process."
             A witness appearing in support of Section 203 was Ms. Margaret Fung, Executive Director of the Asian American Legal Defense and Education Fund (AALDEF). Since 1988, AALDEF has monitored elections and conducted multilingual exit polls to document barriers to voting faced by Asian Americans. According to Ms. Fung, a report put out by her organization titled, Asian Americans and the Voting Rights Act: The Case for Reauthorization, finds that Section 203 has opened up the political process for Asian Americans, especially first time voters and new citizens.
             Appearing for the Department of Registrar-Recorder of Los Angeles County was Acting Assistant Registrar-Recorder, Ms. Deborah Wright. Ms. Wright stated that she was there to give first-hand evidence on the provision as it was enacted. Los Angeles County is the largest and most diverse local election jurisdiction in the United States. No other jurisdiction provides assistance in as many languages. She noted that assistance to limited-English proficient voters was much needed and that her county goes beyond the minimum standards required by the provision in pursuit of their goal to serve the LA County community. She also testified that, "the costs of L.A. County's multi-lingual program are reasonable in light of the challenges the County faces."
             Further information on the hearings, including witness testimony, may be obtained from the Committee's website at: http://www.judiciary.senate.gov .
Capitol Hill Renewable Energy & Energy Efficiency Events on Tuesday
             On Tuesday, June 20, 2006, the Sustainable Energy Coalition (SEC) and the House and Senate Renewable Energy & Energy Efficiency Caucuses will host their annual Renewable Energy & Energy Efficiency Expo and Forum. The all day events from 9:00 a.m. to 6:30 p.m. will take place in the Cannon Caucus Room, which is Room 345 of the Cannon House Office Building in Washington, DC. There is no charge or RSVP required for any of the activities.
             Exhibits will be open all day, beginning at 10:00 a.m. and will feature 5- to 15-minute DVD segments regarding various renewable energy and energy efficiency technologies in a room adjacent to the Expo. Information is expected to be available regarding geothermal, biomass, hydropower, solar, wind, ethanol, biodiesel, fuel cells, hydrogen, home energy efficiency, and high-performance schools.
             The event will begin with a 9:00 a.m.-10:00 a.m. press conference featuring Caucus co-chairs Reps. Mark Udall (CO) Zach Wamp (TN), and Sens. Byron Dorgan (ND) and Wayne Allard (CO). Also participating will be DOE Assistant Secretary for Energy Efficiency & Renewable Energy Alexander Karsner, DOD Deputy Undersecretary Philip W. Grone, USDA Rural Development Undersecretary Thomas C. Dorr, and Dr. Dan Arvizu of the National Renewable Energy Laboratory.
             At 11:00 a.m., a panel entitled "Achieving True Energy Supply Security With Sustainable Resources" will feature Karl Gawell, Executive Director of the Geothermal Energy Association; Rich Halvey, Program Manager at the Western Governors' Association; David Youlen of Brookfield Power (re hydropower); Scott Trainum, Past Chairman of Adkins Energy (ethanol); and Dr. Stephen B. Brandt, Director of NOAA's Great Lakes Environmental Research Laboratory (biodiesel).
             After breaking for lunch (not provided), the program resumes with a panel from 1:15 to 2:15 p.m. entitled "Improving the Economy and Solving the Energy Crisis through Sustainable Resources" that features Carol Werner, Executive Director of the Environmental and Energy Study Institute (EESI); Rep. Judy Biggert (IL), Chair of the House Science Energy Subcommittee; Jon Weisgall of MidAmerican Energy Holdings Company (re geothermal and wind); Chris O'Brien, Vice President for Strategy & Government Relations at Sharp Solar Systems; and Kevin Rackstraw, Development Leader of Clipper WindPower Inc.
             A third and final panel entitled "Increasing Energy While Decreasing Greenhouse Gas Emissions — The Unique Role of Efficient, Sustainable Technologies" from 3:30 p.m. to 4:15 p.m. will feature former Rep. Phil Sharp, who is now President of Resources for the Future, as well as Dr. Michael MacCracken, President of the International Association of Meteorology and Atmospheric Sciences and Chief Scientist for Climate Change at Climate Institute, and Tom Casten, President & CEO of Primary Energy and author of Turning Off the Heat.
             The day will conclude with a reception from 5:00 to 6:30 p.m. sponsored by GE Energy and featuring that company's CEO John Krenicki, closing remarks, and the presentation of a Lifetime Achievement Award to Rep. Sherwood Boehlert from the Sustainable Energy Coalition.
Appropriations Review: Energy & Water Analysis and Agriculture Analysis Available On CalInst Website
             The California Institute analysis of the FY 2007 House Appropriations for Energy and Water is now available on its website at: http://www.calinst.org/pubs/ew07h.htm or in printer-friendly pdf format at http://www.calinst.org/pubs/ew07h.pdf .
             The analysis for the FY2007 House Agriculture Appropriations is also available; it is located on the website at: at: http://www.calinst.org/pubs/ag07h.htm or in pdf format at http://www.calinst.org/pubs/ag07h.pdf .
             Other analyses will be posted as the bills are made available and as the Institute's California-focused reviews are completed.
---
To subscribe to the California Capitol Hill Bulletin, send an e-mail to [email protected] with "subscribe" as the subject. To remove your name from the mailing list, e-mail [email protected] with "unsubscribe" as the subject.
---
Click here to return to the California Institute home page. Or click here to send
e-mail.
To subscribe to the California Capitol Hill Bulletin, e-mail us your name, affiliation, and email address with the word "subscribe" in the subject line.